Career Prep Org Accepting New Members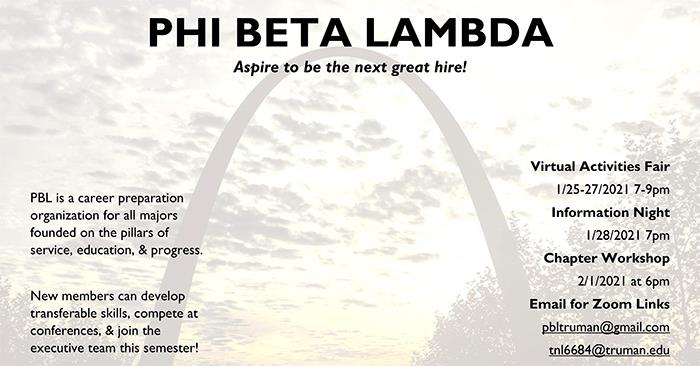 Phi Beta Lambda (PBL) is a career preparation organization for all majors founded on the pillars of service, education and progress. Truman PBL has been a national Gold Seal Chapter of Merit for almost a decade. The chapter promotes brotherhood through social events, service projects, educational workshops and bi-weekly meetings. New members can develop transferable skills, compete at conferences and join the executive team – all during their first semester.
Virtual Activities Fair
7-9 p.m.
Jan. 25-27
Information Night with Kahoot!
7 p.m.
Jan. 28
Join Zoom Meeting
Meeting ID: 722 0791 0957
Passcode: ibTi6N
Chapter Workshop on Elevator Speeches
6 p.m.
Feb. 1
Join Zoom Meeting
Meeting ID: 793 5878 8440
Passcode: 501eNormal
For more information, contact Taylor Libbert, recruitment chair, at
tnl6684@truman.edu
.