A Message from Truman's United Way Campaign Co-chairs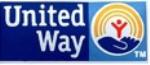 A message from Truman's United Way campaign co-chairs

Thank you to Truman's faculty, staff, and students for donating more than $58,000.
Thank you to students who donated their meals blocks, raising more than $3,500.
Thank you to the student organizations who donated money, raising almost $2,000.
Platinum Level
Tau Kappa Epsilon
Delta Zeta
Gold Level
Delta Sigma Pi
Silver Level
STEP
Bronze Level
Alpha Sigma Alpha
Sigma Kappa
The United Way would like to thank everyone who contributed to making the Kirksville community a better place.