Students Help Combat Food Insecurity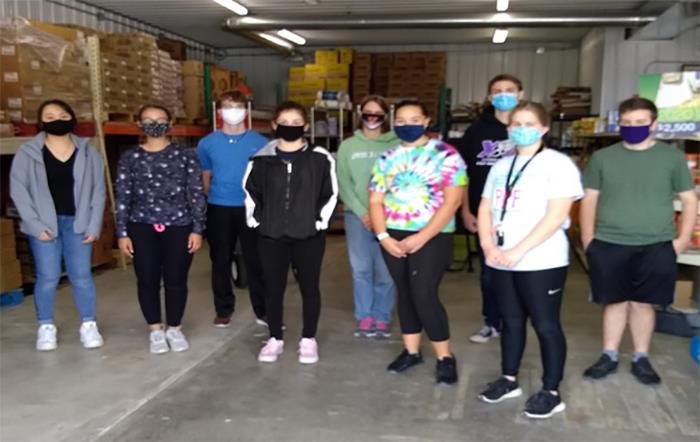 Students paused for a quick photo while volunteering at a local not-for-profit organization to reduce food insecurity in Adair County.
With Adair County ranking high on the list of Missouri counties struggling with food insecurity, some Truman students are doing their part to spread awareness and bring help to those who need it the most.
TRU 100: FEED is one of the nine Truman Symposium classes offered to incoming students, and its goal is to research, volunteer and collect food for people in need. According to Feeding America, the nation's largest domestic hunger-relief organization, food insecurity is a household's inability to provide enough food for every person to live an active, healthy life.
Students in this section were assigned multiple projects which have included volunteering at Take Root Cafe and the White Rose Catholic Worker Farm, as well as designing and running a food drive at local grocery stores. Students working at Take Root Cafe were assigned tasks such as cutting vegetables, processing meat, watering plants, doing dishes and, ultimately, learning how the cafe operates. Those who went to the WRCW farm performed a wide variety of duties, including stacking wood, moving boxes, fixing fences and mulching areas in order to support peach trees.
The food drive organized by this symposium class took place Oct. 17 at Walmart and Hy-Vee in Kirksville. Students accepted cash, checks and food, specifically requesting non-perishable items. In total, the drive secured $1,300 and 752 pounds of food, which was taken to the Pantry for Adair County.
Throughout the remainder of the semester, the FEED section will watch the documentary "Hunger in America" and will continue to spread awareness for those in our community who do not have access to the food they desperately need.