Forensics Earns Fourth-Straight Championship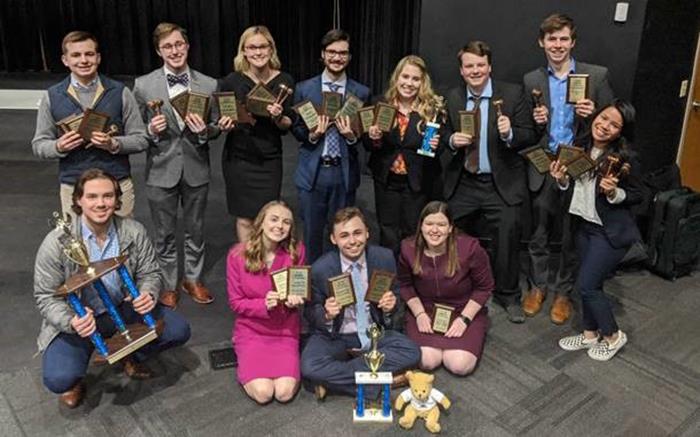 The Truman forensic union won the Harold Lawson Debate Championship for the fourth year in a row, Feb. 14-15. Pictured, top row, from left: Caleb Daniels, Jackson Elder, Cami Smith, Peyton Gilbert, Maya Krump, Alec Cochran, Zach Evans and Zoie Francisco. Bottom row, from left: Michael Garrett, Audrey Baker, Austin Sopko and Rebecca Walker.
For the fourth year in a row, the Truman forensic union has earned Missouri's Harold Lawson Debate Championship.
The team competed Feb. 14-15 at the 2020 Missouri Association of Forensic Activities (MAFA) Championship Tournament, hosted this year by Crowder College in Neosho, Mo. In addition to winning the open debate division of the tournament, the team also placed third in the Bob Derryberry Overall Sweepstakes, indicating the strength of both the speech and debate events of the team, and a number of other individual titles and state championships.
Truman forensics competed in two categories of debate, including parliamentary debate and Lincoln-Douglas debate. In Lincoln-Douglas debate, first-year Zoie Francisco took home the novice state championship and was sixth-best novice speaker at the tournament. Her fellow first-year Alec Cochran reached semi-finals of the novice LD division and was named second-best novice speaker. In varsity LD debate, sophomore Jackson Elder advanced to the final round and earned second place. Senior Caleb Daniels and junior Cami Smith each advanced to quarterfinals in varsity LD. Additionally, Elder was named second-best varsity LD speaker, Daniels earned fourth and Smith earned sixth.
In parliamentary debate, Truman closed out the final round of the varsity division, meaning two pairs of Truman debaters reached the finals. Daniels and Elder comprised one team, while Smith and fellow junior Peyton Gilbert comprised the other. These four debaters together therefore are co-state champions in varsity parliamentary debate. Additionally, novice parliamentary debaters Francisco and first-year Zach Evans had a strong enough showing to advance to varsity quarterfinals. In parliamentary debate speaker awards, Gilbert earned the state championship as top varsity speaker. Smith placed fourth and Elder placed fifth in the varsity division, while Evans earned second place in novice parliamentary speaking.
In individual events, senior Austin Sopko earned second place in poetry interpretation. He also earned second place in duo interpretation with junior Audrey Baker. Baker also reached finals of oratory, finishing in fifth place. First-year Maya Krump earned third place in informative speaking, which also earned her the state top novice award in the event. Krump also placed fifth in persuasive speaking.
Participation in the forensics program is open to any Truman student in good standing, regardless of prior speech and debate experience. For more information on how to get involved, visit
forensics.truman.edu
or contact
Christopher Outzen
, director of forensics, or
Craig Hennigan
, assistant director of forensics.