Students and Staff Attend Regional Intramural Tournament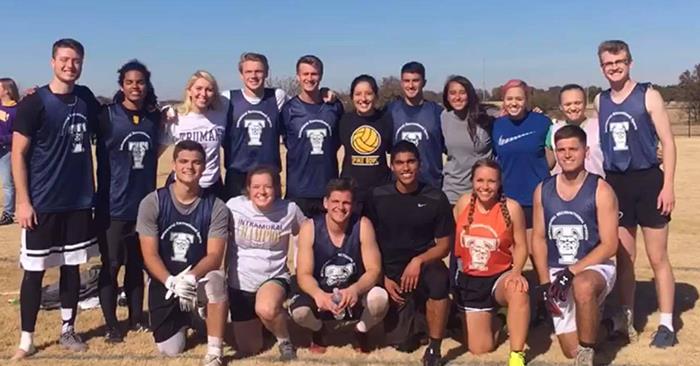 Truman students and staff participated in the National Intramural and Recreational Sports Association (NIRSA) regional flag football tournament, Nov. 8-10, at Oklahoma State University.
The intramural department sent a women's team and men's team. The women's team consisted of multiple members of Campus Christian Fellowship (CCF), Campus Outreach and a few roster additions to round out a full team of seven. The men's team included members from Beta Theta Pi, Lambda Chi Alpha, Delta Chi, CCF and Campus Outreach to make a team of 10. Members for both teams included:
Women's Team
Zoe Coffelt
Morgan Eby
Alyssa Freiner
Maegan Holland
Elli Jensen
Hannah Smiles
Leah Stone
Men's Team
Dane Bossert
Ivan Bossert
Ryan Gudeman
Paul Haarmann
Ross Parke
Reese Rosenquist
Nick Thiele
Noah Vermette
Wyatt Waelder
Dawson Wood
The women's team ended with a 1-3 record overall after losing in the semifinals. Their win against Texas State made Truman the only team in the tournament to score and beat them in pool play.
The men's team finished with a 4-1 record after winning every pool play game. They were seeded as the number one team headed into playoffs. Their tournament came to an end after losing in the last two minutes of play to UMKC in the semifinal. UMKC went on to win the regional title.
Dane Bossert and Alyssa Freiner were both voted to All-Tournament teams. Only the top five players from each league receive this recognition. These votes and decisions come from a panel made up of eight professional staff members from across the nation who had a combined 20 years of NIRSA Championship Series experience.
Bossert was recognized from the men's team for his offensive stats and leadership abilities on the field. He finished the tournament with six passing touchdowns, four rushing touchdowns, three game-changing plays and two MVP votes. Freiner was recognized from the women's team for her defensive plays and relentless efforts to lead a team with heart and tenacity. She finished the tournament with 10 sacks, three MVP votes and two game-changing plays.
Truman also had two representatives on the Competition/Operations Committee for the tournament. Those representatives were Eric Vaughn, director of intramurals, and Brianna Grotts, intramurals supervisor.