Econ Speaker Examines School Choice and Gender Pay Gap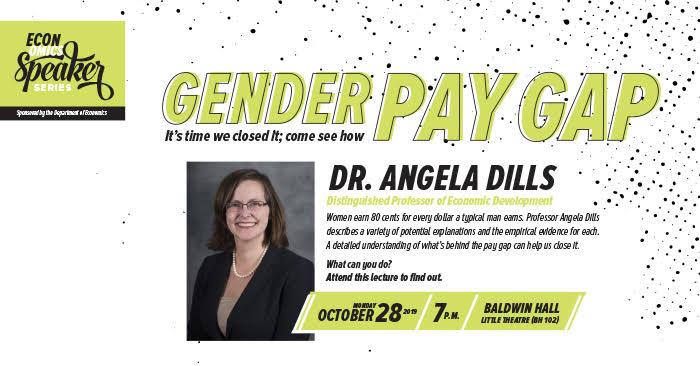 The Economics Department Speaker Series kicks off with guest speaker Dr. Angela Dills, who will present on school choice and the gender pay gap.
Dills is the Gimelstob-Landry Distinguished Professor of Regional Economic Development at Western Carolina University. She received her Bachelor of Arts from the University of Virginia along with a M.A. and Ph.D. from Boston University. Specializing in the economics of education, crime and health, her research focuses on policy issues such as school choice accountability, peer effects, college quality and alcohol and drug prohibition. Her work has appeared in publications such as the Journal of Health Economics, American Economic Review, Economic Inquiry, the Journal of Economic Behavior and Organization and the Economics of Education Review.
Dills will present on educational and school choice in a class at 4:30 p.m., Oct. 28 in McClain 208. Her talk will describe the types of school choice in the U.S. and provide domestic and international evidence on the effectiveness of school choice.
Later in the evening, Dills will speak on wage differentials and the gender pay gap at 7 p.m. in Baldwin Little Theater. She will describe a variety of potential explanations with empirical evidence on why women earn 80 cents for every dollar a typical man earns. In closing, she will provide a detailed understanding of what is behind the pay gap.
These events are hosted by the Economics Department and are free to the public.