Forensics Earns State Championships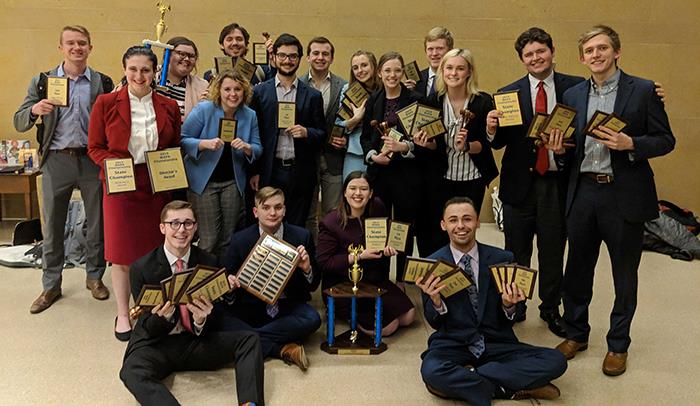 Truman forensics union closed its regular season, Feb. 23, with several state championships at the Missouri Association of Forensics Activities (MAFA) Championship Tournament, hosted by Webster University in St. Louis.
The team earned 14 state championships, including first place in Harold Lawson Debate Sweepstakes for the third year in a row and the MAFA Director's Award recognizing cumulative points earned. Forensics also placed second in Missouri overall, demonstrating comprehensive excellence in speech and debate.
In debate, senior Tyler Behymer, senior Johnathan Christy, sophomore Peyton Gilbert and sophomore Maguire Radosevic each won their quarterfinal round of Lincoln-Douglas debate. The result being these four students are MAFA 2019 state champions in open LD. First-year Macy Cecil advanced to novice LD finals and won, making her the state champion. Cecil also was named top speaker in novice LD, her second state championship of the night. Sophomore Cami Smith was named state champion speaker in open LD as well as open parliamentary debate. In the novice division of parliamentary debate, first-year Jackson Elder was named state champion speaker and took home a second state championship with first-year Michael Garrett by winning the final round.
Individual events speech also picked up three state championships. Sophomore Audrey Baker earned two state championships, one in afterdinner speaking and one in duo interpretation, which she shared with junior Austin Sopko. Baker placed fifth in pentathalon, recognizing highly competitive students entered in at least five events at the state tournament. Sopko joined Baker with his own third-place finish in pentathalon. Additionally, junior Rebecca Walker was named state champion in communication analysis. Each of these are state championships Truman has not won in recent history.
The success of Truman forensics was not made up solely of state championships, however. The team as a whole performed exceptionally well, earning a variety of other awards. They will now turn their attention to nationals, which will be hosted by the city of Santa Ana, Calif., in mid-April.
For more information about forensic union, contact
Chris Outzen
, director of forensics, or
Craig Hennigan
, assistant director of forensics.