Theatre Class Presents One-Act Plays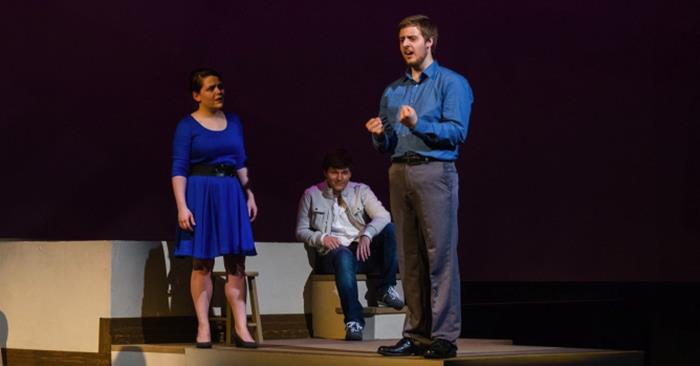 The
Theatre Department
's play direction class will present the work of nine new directors in one-act plays at 8 p.m. Dec. 6-8 in the Ophelia Parrish Hall James G. Severns Theatre.
Taught by assistant professor David Charles Goyette, the class directs plays from some of the best playwrights from around the country as a final assignment. The plays had to be published within the last 80 years, between 10-30 minutes in length and without heavy science, costume, light or sound effects.
These final productions represent a synthesis of numerous concepts explored in the course of the semester. Students explored composition and picturization techniques, scene analysis, how to develop a directorial approach and methods on how to work with actors.
The play direction course is required of all theatre majors in order to graduate. Admission is free for the one act plays. For more information, contact Goyette at
dcgoyette@truman.edu
.
Dec. 6
"Feeding the Moonfish"
By: Barbara Wiechmann
Directed by: Nick Frost
Two co-workers form an unlikely bond amid tragedy, hope and the talking fish.

"The Man Who Couldn't Dance"
By: Jason Katims
Directed by: Julie Amuedo
Eric, Gail's old boyfriend, visits for dinner and meets Gail's baby. What ensues is a discussion about their past relationship, how they've come to where they are now and why Eric can't dance.

"Medea"
By: Christopher Durang
Directed by: Cameron Smith
In an Off-Off-Off-Off-Off-Off-Broadway production of "The Trojan Women," the cast become confused and find their way into actually performing the ancient story of Medea.

Dec. 7
"Space"
By: Laura Jacqmin
Directed by: Natalie Cohen
A couple fights to be together when more than just space separates them.

"On the Porch One Crisp Spring Morning"
By: Alex Dremann
Directed by: Joel Wilper
A mother and daughter sit on their porch sipping coffee, but shortly disclose that they are both actually assassins, and each has been hired to kill the other.

"Still Life"
By: Seth Kramer
Directed by: Amanda Morris
One year after a fire injures Michelle's hands and destroys her artwork, David tries to help her cope and adjust.

Dec. 8
"Dog Park or Sexual Perversity in Magnuson"
By: Dennis Schebetta
Directed by: Cat McMahan
It's a dog-eat-dog world. Four dogs living life in Magnuson.

"Please Have a Seat and Someone Will Be With You Shortly"
By: Garth Wingfield
Directed by: Julie Noringriis
Two almost strangers initiate an awkward conversation in their psychologist's waiting room.

"The Future is in Your Tiny Hands"
By: Jonathan Rand
Directed by: Rachel Seabaugh
Kaitlyn Parker and Eddie Grantwood square off for the political debate of the century: student president of their elementary school.