Appointments Made to Board of Governors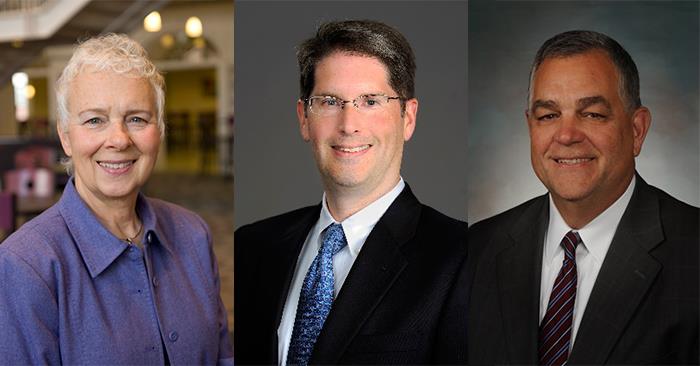 From left to right, Cheryl J. Cozette, Mike McClaskey and K. Brooks Miller Jr.
Three members were appointed to the Truman State University Board of Governors in May.
Cheryl J. Cozette
of Columbia, Mo., was reappointed to the Board for a term ending Jan. 1, 2024. Cozette serves as the 2018 chair of the Board of Governors. She is an adjunct professor in educational leadership and policy analysis at the University of Missouri-Columbia and a special consultant to the eMINTS National Center for programs related to school administrators. She recently retired as the assistant superintendent for curriculum and instruction for the Columbia Public Schools. Cozette graduated with a Bachelor of Arts degree in history from Kansas City College and Bible School. She received a Master of Arts degree in elementary education from the University of Missouri-Kansas City and did further coursework in educational administration at Truman. She received her Doctor of Education in educational administration (curriculum and instruction, general administration) from the University of Missouri-Columbia.
Mike McClaskey
of Castle Pines, Colo., is a retired Fortune 500 corporate executive. Most recently, he worked in executive capacities at DISH Network serving as the executive vice president and chief human resources officer as well as the senior vice president and chief information officer. Before joining DISH, he spent 12 years at Perot Systems where he was the corporation's vice president of infrastructure solutions and CIO. A native of Kirksville, McClaskey received Bachelor of Arts and Bachelor of Science in Education degrees from Truman as well as a Master of Arts degree from the University of Missouri. McClaskey serves as the president of the Foundation Board, and he was an active steering committee member for both the "Pursue the Future" and "Bright Minds, Bright Futures" campaigns. He and his wife, Janet (Yearns) McClaskey ('84), were named Truman's Alumni of the Year in 2014. McClaskey was appointed to replace Michael A. Zito for a term ending Jan. 1, 2022.

K. Brooks Miller Jr.
of Springfield, Mo., is the president and chief executive officer of Jordan Valley Community Health Center. An alumnus of Truman, Miller received a Bachelor of Science degree in business administration in 1982 and a Master of Arts in Education degree in education administration in 1987. Miller's career in health care began with the Kirksville College of Osteopathic Medicine's Rural Health Clinic program in 1984. He advanced to the position of CEO for the Northeast Missouri Health Council, a Federally Qualified Health Center (FQHC) providing comprehensive services throughout Missouri. In 2002, he relocated to Springfield to serve as the president and CEO of Jordan Valley Community Health Center, an FQHC which offers accessible and integrated primary, oral, optometric and behavioral health care services to more than 50,000 patients annually. Miller was appointed to replace Susan Plassmeyer for a term ending Jan. 1, 2024.