Interfaith Connections Strengthen Student Bonds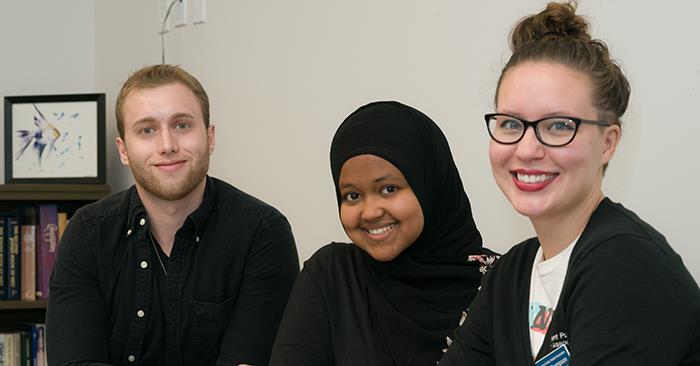 Hillel students Devin Gant, Maha Mohamed and Tori Thompson

Social niceties suggest it is best to avoid religion and politics as topics of discussion. With emotionally charged subjects, conversations can easily escalate from discussion to division, further increasing the chasm between participants. Students in one particular organization, however, are doing their part to create an atmosphere of understanding with the hope of finding common ground.
Hillel is Truman's only Jewish organization, and while it is not unusual for the group to have non-Jewish members, this past year saw the inclusion of its first Muslim member.
A health science major from Kansas City, Mo., Maha Mohamed was always interested in learning more about the Jewish faith. After reading some ancient Jewish literature, she saw many parallels with her Islamic faith. She found it disturbing the groups had been fighting for so long with no intent of reaching a solution. During an especially rough time in Palestinian-Israeli relations, Mohamed began a friendship with fellow student Tori Thompson, a member of Hillel.
"I had met a lot of Jews in my life and had been good friends with them, but she was one of the only ones to openly talk about her faith with me," Mohamed said.
Thompson invited Mohamed to a Hillel meeting, but she was reluctant to attend, assuming she may not be accepted. After about a year, and many invitations from Thompson, Mohamed came around, based in part on her experiences in the Muslim Student Association.
"I didn't know how Hillel members would receive me initially, and I assumed they would be uncomfortable with my presence," she said. "But, in MSA we always encourage people who aren't Muslim to join us, and I assumed Hillel would be the same."
Mohamed found the group to be friendly and welcoming, and she continued to attend meetings.
"Hillel members have taught me more about Judaism than any history book about the Israeli-Palestinian conflict ever has," she said. "It's that willingness to learn from the people of the group you're studying that will push this generation on a positive and inclusive trajectory."
That sentiment is also shared by the members of Hillel.
"We have had people in the organization who are not Jewish, and every new person and viewpoint gives us different insights on what we can do and how to improve from year to year," said Devin Gant, president of Hillel.
Members of Hillel were so impressed by Mohamed's contributions to the group they elected her to serve as the organization's vice president for the current school year.
"This decision was not based upon her faith, but rather our faith in her," Gant said. "Her faith does not diminish her ability to serve in that role. Even though we might have different viewpoints, and subscribe to different religious ideologies, we both want what is best for Hillel."
Mohamed hopes to use her leadership role to build relationships with other campus religious organizations like she has already done with Hillel and MSA.
"We can't claim to try to build bridges with other groups if we're always just with our group and in our comfort zone," she said.