Phi Beta Kappa Initiates 38 Students
The Delta of Missouri Chapter of Phi Beta Kappa initiated 38 Truman students, April 30.
Phi Beta Kappa is the nation's oldest liberal arts and sciences honors society and has had a chapter housed at Truman since 2001. Initiates for Phi Beta Kappa are selected on the basis of demonstrated achievement and breadth in the liberal arts.
For more information, contact
Anton Weisstein
, chapter secretary, or visit the national website at
pbk.org
.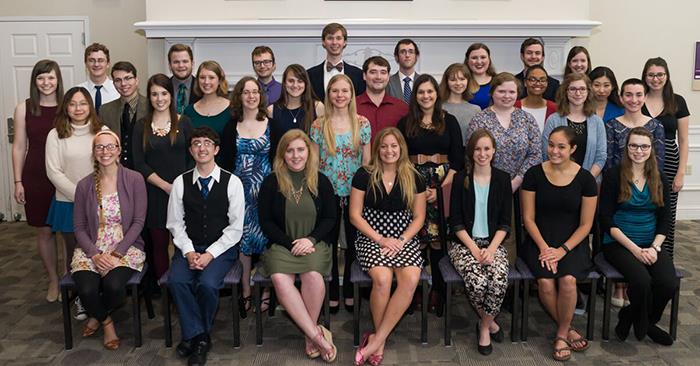 Truman's chapter of Phi Beta Kappa initiated 38 students, April 30. Pictured, front row, left to right: Kaitlyn Meyer, Lewis Dunham, Alexandra Vietor, Meredith Wekesser, Victoria Soncasie, Jasmine Roghair and Rachael Newton. Second row: Linh Le, Mackenzie Maberry, Kendra Musmaker, Lydia Pearson, Tia Sarkar, Madeline Smith, Sally Pessin and Sarah Larson. Third row: Rachael Palmer, Lucas Derry, Alexandra Lawson, Elizabeth Wilson, William Townsend, Leslie Hickman, Alexia Adeshakin, Tingting Hua and Emily Stobbe. Back row: Eric Norfleet, Luke Bishop, Kyle Angle, Geoffrey Winkleman, Andrew Springmann, Melissa Albers, Mason Bracken and Andrea Bleikamp. Not pictured: Dani Eschweiler, Alyssa LaFever, Alexander Moellering, Joseph R. Slama II, Bradly Thornton and Margaret Wilcox.