Intern at the State Capitol
Legislative Assistant to Rep. Sue Allen Jessica Petrie ('13) credits the Missouri Government Internship for early success at State Capitol.
Petrie interned at the State Capitol during the 2013 legislative session. She said this experience was a positive one because it gave her the opportunity to use and refine the skills that she gained during her time at Truman. She also found that she learned about herself and she enjoyed the challenges of working at the Capitol.
"The Capitol is a fast-paced environment where many diverse topics are debated and issues change quickly; that challenge makes it all more enjoyable," Petrie said.
During her time at the Capitol, she gained an understanding of state politics through her interactions with legislators, lobbyists and community activists. Understanding the inner workings of the Capitol and knowing current political issues will not only be an asset for future careers and academic opportunities, but is also crucial for civic engagement, Petrie said.
Beyond what she learned, Petrie values the relationships she made during her internship. She said that interning at the Capitol gives students the chance to find mentors and presents unique networking opportunities. Petrie has already seen her new network pay off when she began her new job as a legislative assistant for Rep. Sue Allen merely two days after the internship ended.
"Truman students have a lot to gain from an internship at the State Capitol," Petrie said, "whether it is what they learn, who they meet, issues they become passionate about or even just the chance to work in such a beautiful and historic building."
Informational meetings for the Missouri Government Internship will take place at 4:30 p.m. Sept. 23 and 24 in the Student Union Building Down Under.
Applications are available online
here
.
For more information, contact Candy Young at 660.785.4650 or
cyoung@truman.edu
or Heidi Templeton at 660.785.4016 or
heidi@truman.edu
.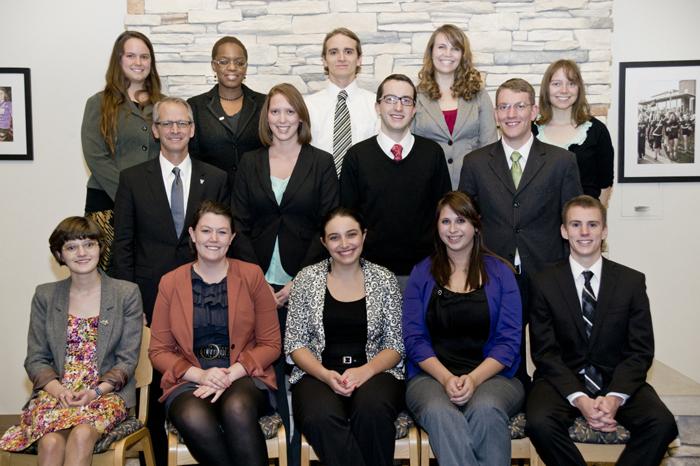 Jessica Petrie, pictured front row, middle, with the other 2013 interns.