Notables
W. Michael Ashcraft, professor of religion,
presented a paper at the Oral History Association's annual meeting in Oklahoma City titled, "The Study of New Religious Movements: Contrasting Narratives from Contrasting Sources."
Bob Mielke, professor of English,
will release his book titled, "Adventures in Avant-Pop." The book is the culmination of Mielke's knowledge, interest and dedication to the work and lives of seven artists. In his book he attempts to find common ground between the different musicians.
Truman's Academic Competition Organization
fielded two teams Oct. 5 at the Michigan Fall Tournament at Washington University. The A team of Jacob O'Rourke, Dylan Becraft, Nick Jones and Selena Montes tied for fourth with a 7-4 record, while the B team of Gabriel Hotz, James Fisher, Houston Roberts and Robyn Allwood tied for 10th with a 3-7 record. Individually, O'Rourke placed seventh after the preliminary rounds. Statistics from the event can be found at
hsquizbowl.org/db/tournaments/1602/stats/combined
.
Members of Truman's chapter of Cardinal Key
attended their national conference Oct. 5-8 in Chicago. Morgan Schmitz, Lara Redmond, Shelby Pieper and advisor Liz Jorn attended workshops on fundraising, the Juvenile Diabetes Research Foundation, recruitment, reports and social media. Attendees also volunteered at the Ron Santo Walk to Cure Diabetes, which had more than 7,000 walkers and raised more than $1.1 million. Also in attendance were Truman alumni, which included Devin Lammy (National Co-Director), Rachel Marx, Kirsten Vollmer, Baillie Cloyd and Gretchen Smiles. On the last day of the conference, elections took place for new national officers and there was a closing banquet celebrating the accomplishments of all Cardinal Key chapters. Pieper was voted in as the new national president and Schmitz as national vice president.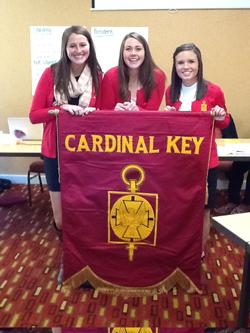 Members of Cardinal Key at the national convention.