Blue Key Wins National Awards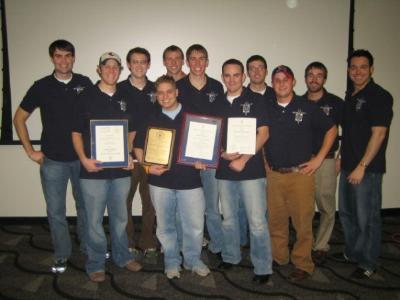 The men of Blue Key (left to right) John Allen, Isaac Cowart, Joe Baumann, Phil Campbell, Nathan Cleaver, Comador Ferguson, Sam Grabill, Ryan Tichenor, Tim Ricker, Lukin Murphy and Andy Brower gather after receiving awards at the Blue Key national conference.

Truman's John R. Kirk chapter of Blue Key National Honor Fraternity took home top honors at its national conference Jan. 20-22 at Clemson University in Clemson, S.C.
The chapter received numerous accolades, including the President's Award, the top individual award given by Blue Key, which went to President Phil Campbell, a senior sociology/anthropology major from Florissant, Mo. The men also earned the Outstanding Chapter Award for being the top Blue Key chapter in the country.
Other distinctions conferred upon the 11 students who attended the conference included the Certificate of Merit for promotion of leadership, scholarship, and service excellence and the Marathon Award for traveling the furthest distance with the most delegates.
Blue Key is a national honor/service organization prided to the foundations of scholarship, character, leadership, and service.