Chappell Named Top Newspaper Adviser in Nation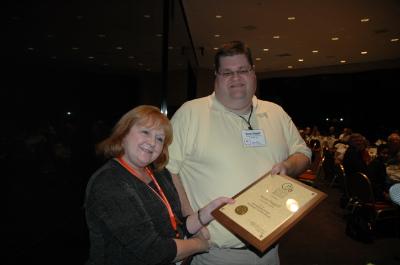 CMA President Kathy Lawrence presents Steven Chappell with the Distinguished Newspaper Adviser award for 2005.


Steven E. Chappell, assistant professor of communication, was named College Media Advisers Distinguished Newspaper Adviser for 2005 at the national organization's annual convention in Kansas City Oct. 28, 2005.
The award is presented annually to a college newspaper adviser for excellence in advising college student media. Finalists are nominated by students and peers. The nominations must include letters of reference from current and former students, the adviser's supervisor, and at least one peer adviser. He also received the organization's Board of Director's Citation for outstanding service to CMA.
Chappell served as adviser to the
Index
and
Detours
from January 2002 until May 2005. While adviser of the
Index
, the newspaper won two Best in Show awards at the College Media Advisers National Spring College Media Convention, was a three-time finalist for the Associated Collegiate Press' Pacemaker Award, and won more than 250 awards at the Missouri College Media Association conventions, including two college student journalist of the year awards and one photojournalist of the year award.
Chappell serves as technology director for College Media Advisers and has been a member of the organization since 1992.