Hoffman Selected as Carnegie Endowment Junior Fellow
Wyatt Hoffman, a senior political science major from Kansas City, Mo., was selected for the Carnegie Endowment Junior Fellows Program.
Each year the endowment offers approximately 10 one-year fellowships to uniquely qualified graduating seniors and individuals who have graduated during the past academic year. They are selected from a pool of nominees from close to 400 participating colleges. Carnegie junior fellows receive a generous salary while working as research assistants to senior associates.
Hoffman, as the first Truman student to be accepted into the program will be participating in research related to nuclear policy.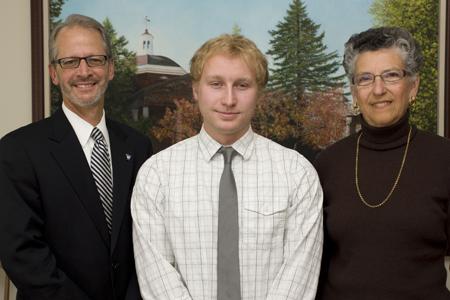 Wyatt Hoffman, center, with President Paino and Maria Di Stefano,
who serves as Truman's nomination official for the Junior Fellows Program.