Alumni to be Honored at Homecoming Events
Several Truman alumni will be recognized at the Alumni and Friends/Hall of Fame Banquet Oct. 19 as part of the Homecoming 2012 celebration.
Jack Magruder and Sue (Brimer) Magruder will be honored as the 2012 Alumni of the Year. Truman President Emeritus and Professor of Chemistry Emeritus Jack Magruder attended Truman and graduated in 1957 with a bachelor's degree in chemistry and mathematics. Dr. Magruder spent a total of 39 years at Truman, first as a chemistry professor for 22 years, then as head of the Science Division for three years, followed by five years as academic vice president, and eventually serving as University president from 1994 to 2003. After retiring from Truman in 2003, Dr. Magruder served as a member of the Board of Trustees for A.T. Still University and was later named the school's president.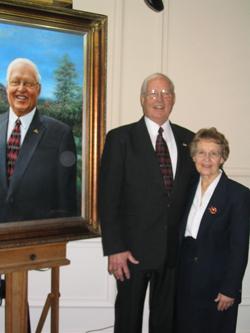 Jack and Sue Magruder
In 1954, Dr. Magruder met his wife, Sue (Brimer) Magruder, when they were both registering for classes at Truman. Sue earned a bachelor of science in elementary education from Truman in 1955, as well as a master of arts degree in elementary science education in 1977. She was a member of the education faculty at Truman for 13 years. Sue was the first person to be named as Truman's First Lady Emerita.
Jim Bergman is the recipient of this year's Distinguished Service Award. Bergman is the director of human resources at Northeast Regional Medical Center in Kirksville where he has worked since 1982. He has also taught at Moberly Area Community College and has served as an adjunct faculty member at Truman. Bergman graduated from Truman in 1990 with a bachelor's degree in business management. While attending Truman, he was a member of Sigma Tau Gamma. A past president of the Truman Alumni Board, he currently serves as vice president of Truman's Northeast Missouri Alumni Chapter and is a member of the School of Business Advisory Board. He also served as a regional volunteer for the University's "Bright Minds Bright Futures" fundraising campaign and is a member of the Kirk Society.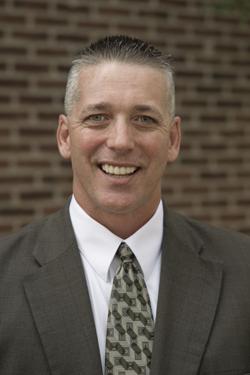 Jim Bergman
Mindy (Frick) McCubbin and Travis McCubbin will be recognized as the Young Alumni of the Year. Mindy serves as senior equity portfolio manager at Shelter Insurance Companies in Columbia, Mo. Prior to joining Shelter, her previous work experience included various financial planning, analysis and management positions at The Boeing Company. She is chair of the Investment Committee for the Truman State University Foundation and serves on the advisory board of the Truman Bulldog Student Investment Fund. At Truman, Mindy was a member and officer of Alpha Sigma Alpha, the Financial Management Association, the American Marketing Association and she played on the Women's Rugby Team. She graduated from Truman in 1997 with a bachelor's degree in finance.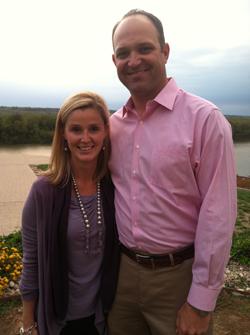 Mindy and Travis McCubbin
Travis McCubbin is the general manager of The Club at Old Hawthorne in Columbia, Mo., where he oversees all areas of operations. He accepted the head professional position at Old Hawthorne in 2007 and was promoted to general manager in 2011. At Truman, Travis was a member of Lambda Chi Alpha and was also on the Men's Golf Team. He graduated from Truman in 1997 with a bachelor's degree in business management. Mindy and Travis both served on the Mid-Missouri Committee for Truman's "Bright Minds Bright Futures" Campaign.
Will Sass is the recipient of the Bulldog Forever Volunteer of the Year Award. Sass earned a bachelor of science in environmental science education from Truman in 1972 and a master of arts in science education in 1977. He has lived in Texas since 1980, working for several oil and gas exploration service companies. Today, he is senior executive vice president of sales and marketing and part owner of Hardin International Processing, Inc., a seismic data processing firm. In 1994, Sass became a charter member of the Dallas Alumni Chapter. For the last 15 years, he has coordinated the college fair program for Truman's Dallas Alumni Chapter at college fairs throughout North Texas. Sass has helped coordinate numerous events, and he also assisted with the University's "Bright Minds Bright Futures" fundraising campaign.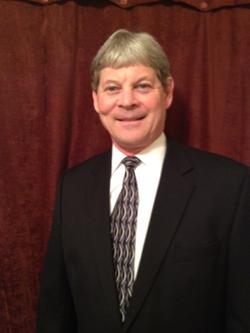 Will Sass
Dr. Edwin and Nettie (Brown) Carpenter ('76) will serve as Grand Marshals for Truman's Homecoming Parade.
Dr. Carpenter grew up in Peoria, Ill. He served as the head of Truman's Language and Literature Division for 22 years, retiring in 1995.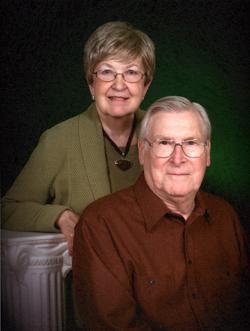 Edwin and Nettie Carpenter
Nettie has a master of science degree in counseling from Truman. She served as the elementary guidance counselor in Kirksville for 22 years, retiring in 1995. Both Dr. Carpenter and Nettie are members of the University's Kirk Society and Pershing Circle.
Complete biographies on all of the 2012 Homecoming honorees are available online at
alumni.truman.edu/Homecoming2012/Honorees.asp
.