Business Students Win Awards at Conference
Caroline Forsythe and Jacob Caughron represented the state of Missouri at the Future Business Leaders of America-Phi Beta Lambda National Leadership Conference in San Antonio, Texas, June 24–27.
The Truman students competed in the Future Business Leaders of America-Phi Beta Lambda, Inc. (FBLA-PBL) national business competition against state representatives from across the United States, Puerto Rico and China. At the Awards of Excellence program Forsythe earned 1st place in Accounting for Professionals and 3rd place in International Business. Caughron received 5th place in Retail Management.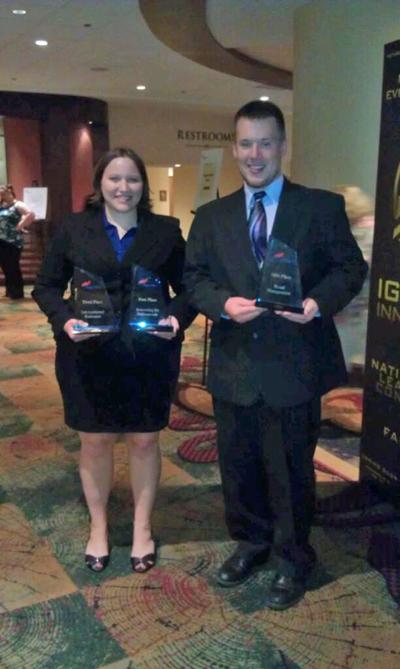 Caroline Forsythe and Jacob Caughron at the FBLA-PBL Conference.
The competition is part of a competitive events program sponsored annually by FBLA-PBL, a professional association for students pursuing business careers. Individuals, local chapters and state teams compete in more than 50 events representing a range of business, career and leadership development activities. The winners of these challenging and prestigious awards are selected from the more than 210,000 FBLA-PBL members, and have won regional and state competitions to qualify for the national awards program. The 1,800 delegates to the 60th annual conference elected national student officers and attended business and leadership workshops in addition to competing in business and career skill events.
This year's national theme, "FBLA-PBL: Gateway to Greatness," reflects the goals of FBLA-PBL members, some of the best and the brightest of today's young people. FBLA-PBL is a nonprofit organization that prepares students for careers in business and business education. Its mission is to bring business and education together in a positive working relationship through innovative leadership and career development programs. To learn more, see FBLA-PBL's website at
www.fbla-pbl.org
or call 800.FBLA.WIN.