Bowen Garden Honors Former Professor
Long-time Truman professor Jack Bowen was honored posthumously with the dedication of the Bowen Garden June 2 on campus.
For 42 years, Bowen worked in public education, holding positions in teaching, coaching, administration and intramurals. He passed away in March 2011 after a long battle with cancer.
A native of La Plata, Mo., Bowen earned his bachelor's and master's degrees from Truman in 1958 and 1961 respectively. He started his teaching and coaching career in 1958 in the Pulaski public schools in Pulaski, Iowa. In 1960, he took a job with the Davis County public schools in Bloomfield, Iowa, holding positions in teaching, coaching and administration. He accepted a position at the University in 1966 in the Division of Health, Physical Education, Recreation and Dance, which is now Health and Exercise Sciences.
Assignments over Bowen's 34 years at Truman included teaching undergraduate courses, serving as director of intramural recreation sports and as the HLTH 194 activities coordinator, overseeing field experiences for HES students and supervising HES MAE students.
Bowen is survived by his wife, Melba. The couple was active in selecting the recipients of the Jack and Melba Bowen Endowed Scholarship, established by Steve and Marilyn Barger through the Truman State University Foundation.
The Bowen Garden is located near the east entrance of the Pershing Building and is intended to symbolize the life and values of Jack Bowen. Melba and members of the Bowen family were actively involved in the design and planning of the garden.
The Bowen Garden was made possible through a generous private donation by the K.C. Summers Corporation and was installed by staff, faculty and students under the direction of Trumascape. The Garden will be maintained by members of Phi Epsilon Kappa, a professional service organization in the Health and Exercise Sciences.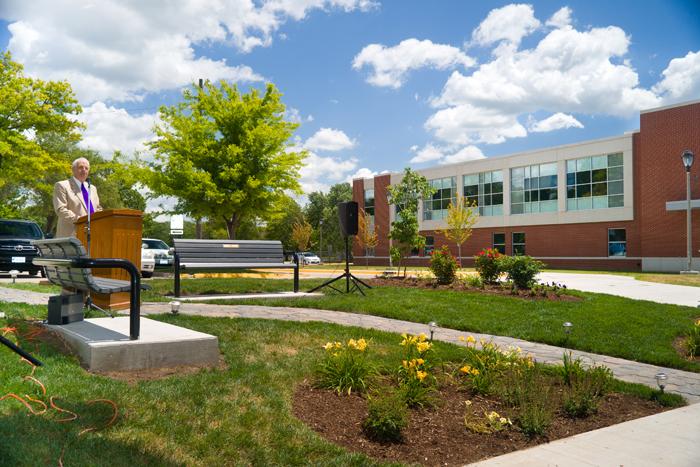 Larry Boleach, associate professor emeritus of health and exercise sciences, speaks at the Bowen Garden dedication June 2. Boleach worked with Jack Bowen for 40 years. A transcript of Boleach's remarks is available at trumantoday.truman.edu/pdf/BowenTribute.pdf.