Students Selected as Goldwater Scholars
Two Truman students have been selected to receive the prestigious Barry M. Goldwater Scholarship for the 2012-2013 academic year.
Lauren Choate and Miguel Fernandez Flores are among the 282 individuals chosen for the national competitive scholarship. Choate, a biology major from Farmington, and Fernandez, a physics and mathematics double major from Festus, are two of only six Missouri residents to receive the award this year.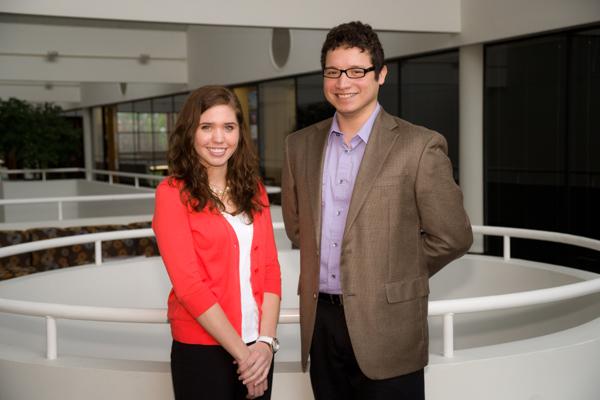 Lauren Choate will use her scholarship to continue her work in biology and Miguel Fernandez Flores for his in physics.
Both students applied for the award through Truman's Graduate Studies Office. Choate and Fernandez each have aspirations of attaining a Ph.D. and conducting research in their respective fields.
"I felt very comfortable early on approaching my physics professors regarding research I could get involved in," Fernandez said. "The professors and the upperclassmen were encouraging and positive about seeking out research experience for undergraduates for the summer."
Choate also credits her early experiences at Truman for helping her secure a Goldwater Scholarship.
"Truman gave me the opportunity to get involved in undergraduate research as a freshman and through this I found an area of research that I truly enjoy," she said.
The Goldwater Scholars were selected on the basis of academic merit from a field of 1,123 mathematics, science and engineering students who were nominated by the faculties of colleges and universities nationwide.
The one- and two-year scholarships, awarded annually to sophomores and juniors, cover the cost of tuition, fees, books and room and board up to a maximum of $7,500 per year. Fernandez plans to have the scholarship for one year, while Choate will have it for two.
Goldwater Scholars have very impressive academic qualifications that have garnered the attention of prestigious post-graduate fellowship programs. Recent Goldwater Scholars have been awarded 78 Rhodes Scholarships, 112 Marshall Awards, 104 Churchill Scholarships and numerous other distinguished fellowships.