Summer Course Takes Students to Yellowstone and Grand Tetons National Parks
Jennifer Hurst, professor of health and exercise science, will host an informational meeting about this year's summer excursion course to Yellowstone and Grand Tetons nationals parks at 7 p.m. Feb. 7 in Pershing Building 3102.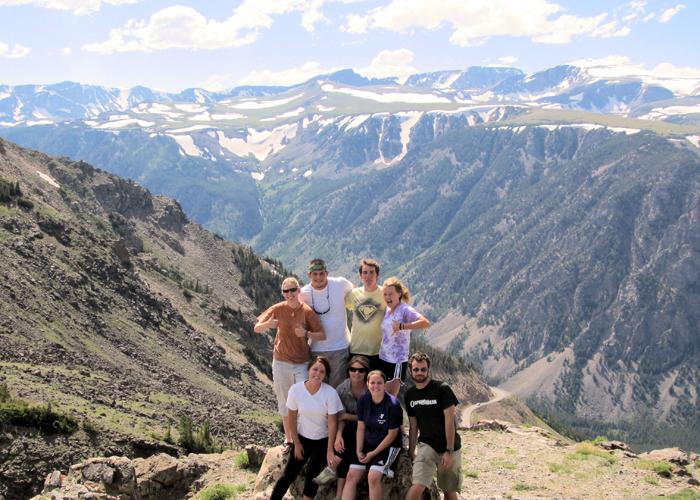 Truman students stop for a picture near Beartooth Pass in Montana before reaching the northeast entrance to Yellowstone National Park during the 2011 summer excursion. Pictured, top row, left to right: Kelly Ferguson, Richie Schumacher, Brendan O'Brien and Katie Shannon. Bottom row, left to right: Madison Bray, Taylor Wilson, Carmen Holahan and Scott Nelson.
Offered last summer for the first time, Physical Activity and the National Parks has been modified and expanded this summer to an eight-week hybrid course for summer 2012. A combination of online learning for the first five weeks and a longer 14-day excursion trip will give students an opportunity to learn and explore two of the most unique environments on earth. Students will learn about the national park system, as well as the unique biology, geology, history and conservation issues connected to both Yellowstone and Grand Tetons national parks through different physical activities. Through hiking, wildlife observation, whitewater rafting and one day of beginning rock-climbing instruction, students will get hands-on learning about the parks' fascinating features.
Questions may be directed to Hurst at
jhurst@truman.edu
or call 785.4464.
Anyone is eligible to enroll in the course.