Lyceum Opens with Interpretation of "The Phantom of the Opera" by Vox Lumiere
Truman's 2011-2012 Kohlenberg Lyceum Series will open with Vox Lumiere's "The Phantom of the Opera" at 7:30 p.m. Oct. 26 in Baldwin Auditorium.
Vox Lumiere's interpretation of "The Phantom of the Opera" combines music, theatre and silent film into a 21st century version of the classic.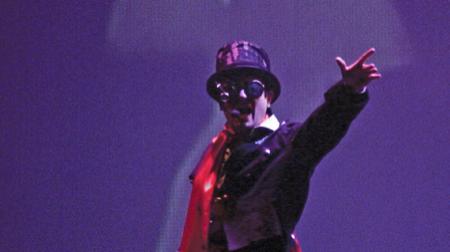 Vox Lumiere's "The Phantom of the Opera"
The story is based upon the novel written by Gaston Leroux and focuses on the masked and facially deformed Phantom who haunts the world's most famous opera house. The Phantom causes murder and mayhem in an attempt to force the management to make the woman he loves a star.
This performance features thrilling new music and a breathtaking live performance that meld with the beauty of the original silent film.
Vox Lumiere has won five first-round Grammy nominations, two 21st Century Filmmaker Awards and was nationally televised in a PBS special.
Tickets are free for students, faculty and staff and will be available starting Oct. 19. Students may pick up their tickets at the Student Activities Board Office in the Student Union Building. Faculty and staff may acquire their tickets at the information desk in the Student Union Building.
General admission tickets for the event cost $7 for all ages and will be available beginning Oct. 19 at the Truman Cashiers Window in McClain Hall or downtown at Edna Campbells.
For additional information, visit
lyceum.truman.edu
or contact 785.4016.