Bequest Establishes Major Scholarship
Truman will receive a bequest in excess of $500,000 from the estate of the late Marjorie Alice White of Monroe City, Mo.
The substantial gift will create the Samuel A. Jeffries and Alice White Scholarship fund at Truman and become one of the largest scholarship programs established through the University's Foundation.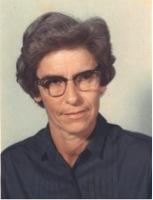 Alice White
Recipients of the scholarship will demonstrate and maintain a 3.0 grade point average and produce evidence of good citizenship, extra-curricular activity participation and leadership. Scholarship awards will be equivalent to one-half of the cost of tuition, room and board for Missouri students at Truman, or approximately $7,000. The awards will be renewable for a period of four years, provided that academic and citizenship standards are maintained. When fully endowed, the fund will support scholarships for at least three Missouri students attending Truman annually.
"We are very grateful to Alice White for her foresight and generosity in establishing this significant scholarship program at Truman," said University President Troy D. Paino. "Generations of Missouri students will receive the gift of a Truman education as a result of this bequest. Alice was an educator and advocate of lifelong learning, and her legacy will continue through this scholarship program."
Born in Lewis County, Mo., Alice White was educated in country schools and graduated from Durham High School. She attended the University from 1939 to 1941 and then began teaching in one-room rural schools in northeast Missouri. Following a teaching stint in Zephyrhills, Fla., Alice returned to Missouri and completed her teaching career at Louisiana, Mo. She moved to Monroe City in retirement and enjoyed hunting, fishing and collecting antiques. She was remembered as a strict but fair teacher who earned the respect of her students and greatly influenced the lives of many schoolchildren.
Her scholarship is also named for Samuel Jeffries, the son of Samuel and Adele Jeffries, lifelong friends of White, who was tragically killed in a bicycle accident many years ago.
The gift is part of Truman State University's $30 million
"Bright Minds Bright Futures"
campaign.