SIFE Team Takes First Place at Competition
The Truman SIFE team recently won first place and $2,000 at the K-State Business Ethics Case Competition in Manhattan, Kan.
Cody Hagan, Iliyana Kuneva, Sarah Schlafly and Heather Storm competed for Truman at the event.
ConocoPhillips sponsored the case competition for its Excellence in Business Ethics Initiative. Through the initiative, ConocoPhillips promotes ethical practices and enhances business ethics education for students across the nation.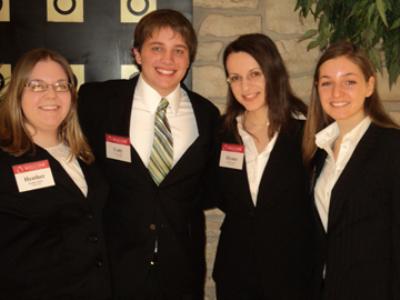 Heather Storm, Cody Hagan, Iliyana Kuneva and Sarah Schlafly competed in the SIFE Competition for Truman.
Teams participating in the case competition had 36 hours to utilize their business skills to analyze, research and develop a solution for a case about a realistic ethical dilemma. After developing a solution, teams created a professional presentation and written executive summary.
A panel of 12 business leaders and K-State faculty evaluated the presentations.
"It was truly a pleasure to see the Truman SIFE students perform at such a high level over the weekend," ConocoPhillips representative Christopher Merriewether said. "I had not heard much about Truman State University prior to the event, but I saw very sharp students who did an amazing job representing their institution. The first place prize was well deserved!"
Other SIFE teams represented in the competition were University of Nebraska – Lincoln, University of Northern Colorado, Iowa State University and Texas State University – San Marcos.