Sculpture Gift Meant to Inspire
A new outdoor sculpture funded by a combination of an outright gift from Margarita Heisserer and a gift in kind from Larry and Candy Young now adorns the Truman campus.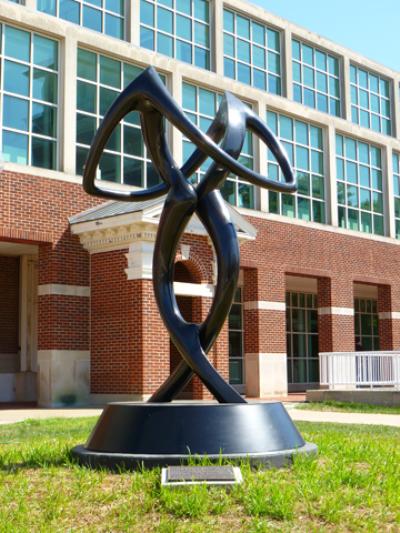 "The Dance"
"The Dance," a 10-foot bronze sculpture, was created by Larry Young, a nationally known artist who blends contemporary forms with classical compositions that capture the human spirit.
"This sculpture gift to Truman State University is meant to kindle creative energies that fuel a campus culture alive with civility, truth and learning that keeps students' spirits dancing," Heisserer said. "I hope 'The Dance' will also raise the aesthetic awareness of the campus, provoke motivational thinking and communing among the students and faculty and perhaps even stimulate the giving of other such gifts to the University."
Heisserer, assistant vice president for academic affairs from 1979 to 1992, and Candy Young, professor of political science at Truman since 1980, share a common bond tied to a critical turning point in the University's history. Both were working for Truman during the mid-1980s when the institution's mission was changed from a regional comprehensive university to a statewide public liberal arts and sciences university.
Larry specializes in bronze pieces and has placed more than 50 monumental outdoor sculptures.
In addition to being an artist, Larry is a two-time Olympic medalist in long-distance racewalking. He has always been fascinated with both ballet and modern dance. Larry and Candy danced together in a touring dance group when they were students at Columbia College.
"Just as dance has been central to our lives, it has also been a recurring theme in my sculpture," Larry said.
"The Dance" was originally created at 18 inches in 1977. Larry enlarged the model of the sculpture to 10 feet in water-based clay using techniques he learned in Italy. He then made a multiple-piece mold of the clay.
"The Dance" was cast in 14 separate sections that were then welded together to complete the sculpture.
"Candy's career at Truman and my daughter's graduation from Truman both make the placement of 'The Dance' very special," Larry said. "I hope that it contributes to the University's liberal arts mission and gives all members of the Truman community a chance to experience art on a daily basis."
"The Dance" was installed Aug. 13, in a high-traffic area east of the campus fountain between the Student Union Building and the Library Clock Tower. The unveiling ceremony for the sculpture took place Sept. 17 in conjunction with the installation of President Troy D. Paino.
This gift is part of the "Bright Minds Bright Futures" campaign, Truman State University's $30 million fundraising effort. More than $24.5 million in gifts and future commitments had been made to the campaign as of September 2010.