Debaters Featured in Educational Video
Four Truman students are featured in an educational video that intends to develop debate programs in Afghanistan.
The video will be used in a pilot program featuring three Kabul universities and for additional training of faculty and students at other universities.
This debate project is sponsored by the International Foundation for Electoral Systems (IFES), an international nongovernmental organization with headquarters in Washington, D.C.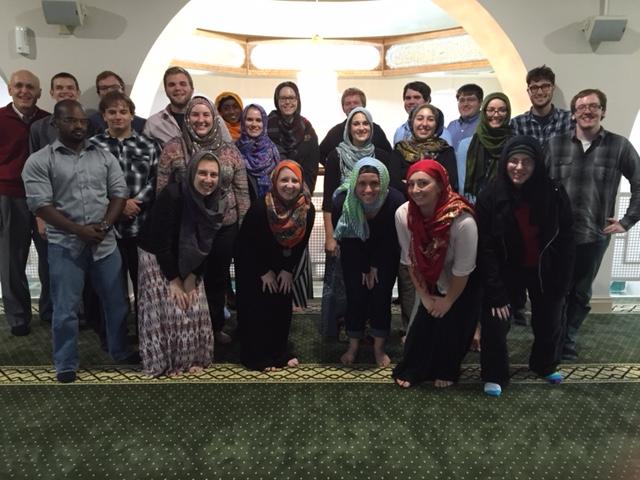 Jessica Petrie, Haley Sawyers and Sarah Backhaus display the traditional Afghan dress worn during their educational video.

The Truman students debated on the topic "Holding a job while studying does more harm than good to university students," against four students from Washburn University using British Parliamentary Debate rules. At the conclusion of the debate, Washburn sponsor James Schnoebelen, Truman sponsor Kevin Minch and Kansas Court of Appeals Judge G. Joseph Pierron critiqued the students to demonstrate the judging process at a tournament.
Participating students included: senior political science major Sarah Backhaus; sophomore communication major Jessica Petrie; freshman political science and philosophy and religion double major Haley Sawyers; and junior political science major Andrew Schupick.
Peter Noppenau, coordinator of the program for IFES in Kabul, remarked, "An educational video made by American university students respecting the Afghan culture and engaging in Afghan students' problems will greatly encourage already well motivated Afghan university students who, on behalf of their country, are seeking recognition of their culture and capabilities. The video will further bridge the understanding between American and Afghan youth in a time where most information between the two countries sadly are negative because of the ongoing war."
Truman is a past winner of the National Parliamentary Debate Association championship and Washburn was the most recent winner of the National Parliamentary Debate Association National Team Sweepstakes in Lubbock, Texas.
The Truman Forensic Union (which houses the debate program) is directed by Kristi Scholten, assistant professor of communication and assisted by professor Russell Luce, instructor of communication.