Notables
J. Richard Freese, a graduate music composition major
, recently became the third consecutive Truman masters of art student to receive first place in the Missouri Music Teachers Association Composition Competition at the young artists level. Freese also received second place in the West-Central Division of the Music Teachers National Association Composition Competition. Freese had a work selected for performance at the 2010 University of Nebraska-Kearney New Music Festival and has received commissions for musical compositions this past year from several schools, churches and colleges. He was a recipient of the 2010 Bruce Bernward Student Honorarium for outstanding collegiate theory and composition students.
Kelsey Kline, a senior music major
, received the 2010 Paul Revitt Memorial Award for Best Student Paper, presented at the College Music Society's Regional Conference at Emporia State University on March 28. The other finalist was a doctoral student, and Kline received special recognition as the only undergraduate student invited to present at the conference. A condensed version of her paper recently was published in the Spring 2010 Edition of Metamorphosis, the Council of Public Liberal Arts Colleges (COPLAC) journal. Kline's research mentor is
Shirley McKamie, lecturer in music
, and the study focuses on the influence of American jazz on early twentieth-century artists such as Piet Mondrian and Henri Matisse.
Julia DeLancey, associate professor of art
, joined three Truman art history alumni in attending the 2010 Renaissance Society of America's annual meeting in Venice, Italy. Dr. John Garton (Bachelor of Arts, art history and studio art; assistant professor of art history, Clark University) presented a paper entitled "The Siege Ladders of Leonardo da Vinci," in a session honoring his doctoral supervisor, Colin Eisler (New York University). Jasmine Cloud (Bachelor of Arts, art history; Ph.D. candidate, art history, Temple University), was selected to give a paper entitled "A Shifting Sense of the Past: The Early Modern Interpretation of the Façade of San Marco," in a session honoring the historian of Venetian art, Dr. Patricia Fortini Brown. Leslie Contarini (Bachelor of Arts, art history) helped organize and host a session, sponsored by the restoration organization Save Venice, entitled "Recent Restorations in Venice: Titian, Tintoretto, Veronese." DeLancey was invited to give a paper entitled "'L'importantissima mercanzie': mapping color sellers and visual environments in Renaissance Venice."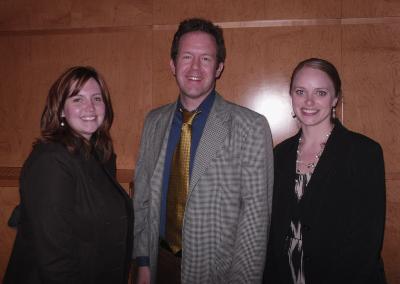 Pictured, from left to right, Leslie Contarini, John Garton and Jasmine Cloud. All are alumni of the Art Department and all received Bachelor of Arts degrees in Art History.