Fulbright, Department of State Scholars Announced
The 2009-2010 academic year has been one of the most successful ever for Truman students in regards to competitive fellowships and scholarships.
Eleven students applied for Fulbright Grants, Truman's highest number ever. Seven finalists were selected: Katie Gettinger, Kelly Merritt, Grant Berry, Jillian Lopez, Abigail Temple, Jennifer Jalack and Stephen Barnes.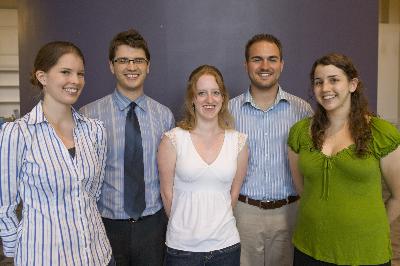 Truman Fulbright finalists (from left) Katie Gettinger, Stephen Barnes, Kelly Merritt, Grant Berry and Jillian Lopez. Not pictured: Abigail Temple and Jennifer Jalack.
Established in 1946 under Congressional legislation introduced by the late Senator J. William Fulbright of Arkansas, the program is designed "to increase mutual understanding between the people of the United States and people of other countries."
Gettinger applied to Slovenia; Merritt to Germany; Berry to Argentina; Lopez to Venezuela; Temple to Russia; Jalack to Indonesia; and Barnes applied to Thailand.
David Atkinson and Ashley Adams have both been selected for a U.S. Department of State 2010 Critical Language Scholarship. They are among approximately 575 U.S. undergraduate and graduate students selected from nearly 5,300 applicants to spend seven to 10 weeks in intensive language institutes this summer in 15 countries. Recipients will also support their language acquisition through cultural immersion activities. CLS Program participants are expected to continue their language study beyond the scholarship and apply their critical language skills in their future professional careers. Atkinson will study Arabic and Adams will study Korean.