International Students Share Their Culture
Fourteen Truman international students, representing nine different countries, shared information about their home cultures with nearly 200 children from the Memphis, Mo., area during "All School Family Fun Night" at Scotland County Elementary School March 18.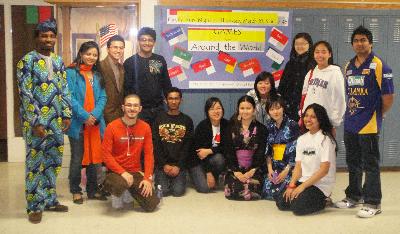 Each year, Truman international students educate area students and their families during Scotland County Elementary's "All School Family Fun Night." The international students shared their cultures through games and stories.
The International Student Affairs Office has been partnering with Scotland County Elementary and its principal, Rhonda McBee, for the past few years in participating in one "All School Family Fun Night" every spring.
Previous themes have included "Reading Around the World" and "A Taste of World Cultures." This year's theme was "Around the World with Fun and Games."
Students from India, Nepal, Sri Lanka, Vietnam, Japan, China, Nigeria, South Korea and Egypt presented information about their home cultures and taught students and their parents children's games from their countries.
Some of the games included: Cricket; Aliyaya Aha Fuabuma, a Sri Lankan game similar to "pin the tail on the donkey," only its "pin the eye on the elephant"; Ifo, a Nigerian game similar to hopscotch; and Gong-gi, a South Korean game similar to jacks. Chinese students hosted a marshmallow/chopstick relay, while Japanese students conducted origami sumo wrestling.
The ISAO participates in the program to share international cultures and promote diversity among children in the rural Midwest, as well as to give international students an opportunity to interact with American children and learn more about childhood in the United States.