The 5 Browns Close 2009-2010 Kohlenberg Lyceum Series
The 5 Browns, a sibling quintet of piano players, are the final performers in the 2009-2010 Kohlenberg Lyceum Series. They will perform at 7:30 p.m. April 8 in Baldwin Hall Auditorium. Tickets will be available April 1.
Delivering on their dream to wake up classical music, The 5 Browns are introducing it to the widest, largest and most excited audience they can find.
The 5 Browns reveal a deep connection to their material while bringing a fresh energy and dynamic character to the color and tonal spectrum of their sound.
The 5 Browns – Ryan, Melody, Gregory, Deondra and Desirae – all attended New York's Juilliard School. In fact, they became the first family of five siblings ever accepted simultaneously.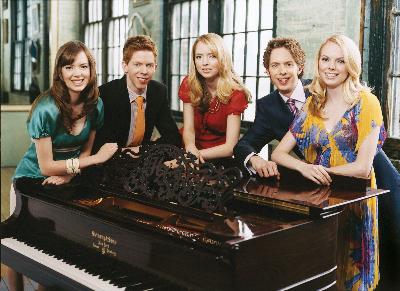 The 5 Browns
The quintet enjoyed their first wave of critical attention in February 2002 when People magazine dubbed them the "Fab Five." At about the same time, they were featured on Oprah and 60 Minutes.
The 5 Browns have released three CDs that each went to No. 1 on Billboard Magazine's Classical Album Chart.
The New York Post has proclaimed, "One family, five pianos and 50 fingers add up to the biggest classical music sensation in years …When these kids do Rachmaninoff, they'll make you forget about Marshall amps."
The quintet has garnered extensive coverage from media outlets ranging from the Tonight Show with Jay Leno and Today, to the New York Times, the Sunday London Telegraph and Entertainment Weekly.
In addition to touring, The 5 Browns are published writers. Their book, "Life Between the Keys," was published by Phoenix Books in March 2009.
This April will see the release of their new CD "The 5 Browns … In Hollywood," on the E1 Music label.
They are also featured in a new PBS TV special, "The 5 Browns In Concert," which airs on PBS stations across the country.
Tickets are free for Truman students, faculty and staff with a Truman ID. Students may pick up their tickets at the Student Activities Board office in the Student Union Building. Faculty and staff may pick up their tickets at the information desk in the Student Union Building.
For more information, visit
http://www.the5browns.com
or
http://lyceum.truman.edu
.