Carnahan to Address Graduates During Commencement Ceremonies Dec. 19
Former U.S. Senator Jean Carnahan will present the commencement address during Truman's December graduation ceremony at 11 a.m. Dec. 19 in Pershing Arena.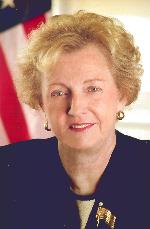 Jean Carnahan
As part of the commencement ceremonies, Carnahan will also be accepting an honorary degree on behalf of her late husband who was the governor when the University was renamed Truman State University in 1996.
In addition to being the first woman in Missouri history to serve in the U.S. Senate, Carnahan worked with her husband, Mel Carnahan, for 40 years of public service. She played an active role in her husband's political career. Mel served as a State Legislator, State Treasurer, Lt. Governor and Governor.
As Missouri's First Lady from 1993 to 2000 she worked to improve the lives of the state's children as an advocate for childhood immunization, abuse centers and on-site day care centers for working families. She was also a champion of the arts and Habitat for Humanity.
In 2000, her husband was campaigning for the U.S. Senate when he, their son Randy and a campaign adviser were killed in an airplane crash just three weeks before the election. Voters posthumously elected Mel to the Senate and Jean agreed to take her husband's place in Washington.
During her two years in Washington, Carnahan continued to be a leading advocate for working families. The Senate voted to include her first bill, the "Quality Classrooms Act," in the "Leave No Child Behind" law. Following the Enron scandal, she introduced the "Informed Investors Act," which passed into law and required corporations to make swift, electronic reporting of insider trading. She also secured an extension of health care benefits for returning reservists and National Guard personnel.
Carnahan served on the Commerce Committee, the Governmental Affairs Committee, the Special Committee on Aging and the Small Business Committee. She was also the fifth woman to ever serve on the Armed Services Committee. Following the events of Sept. 11, 2001 she was a member of the first Congressional delegation to Afghanistan and conferred with heads of state in Turkey, Uzbekistan, Tajikistan, Pakistan and Oman.
In recent years Carnahan has been able to watch as her children have started their own political careers and businesses. Her son Russ and daughter Robin won public offices in 2004 and were re-elected in 2008. Russ serves in the 3rd U.S. Congressional District seat while Robin serves as the Missouri Secretary of State. Her son Tom is the founder and CEO of Wind Capital, a wind energy company.
Outside of politics, Carnahan is an accomplished author, having written five books. The most recent, "The Tide Always Comes Back," a collection of inspirational essays, was released in November. Other works include "If Walls Could Talk," a history of the state's first families, and her autobiography "Don't Let the Fire Go Out."
The honorary degree is one of three, originally announced in the spring, to be awarded to individuals who played pivotal roles in shaping Truman State University into a premier liberal arts and sciences university.
The other two degree recipients are Charles McClain, the long-time school president who envisioned the University's mission change, and John Ashcroft, the Missouri governor who formally designated it as the state's only public liberal arts institution.