Phi Beta Kappa Initiates 71 Students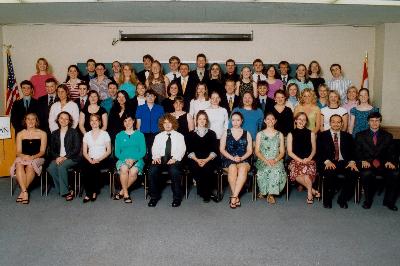 Students who were able to attend their initiation ceremony into Phi Beta Kappa are pictured above.
The following students were initiated into the Delta of Missouri Chapter of the Phi Beta Kappa liberal arts honors society April 17: Stephanie S. Amick, Audrey J. Armstrong, Collin D. Ashmore, Crystal A. Beard, Claire Amanda Berman, Sarah M. Billing, Elizabeth R. Bobzien, Danielle Borsch, Joseph Edward Bredehoft, Sarah Lynn Brown, Joy Lynn Chisholm, Brady John Copeman, John Andrew Crossett, Erin Elizabeth Donohue, René L. Duncan, Bethany Jane Ellis, Amy Elizabeth Endicott, Wyatt Anthony Feeler, Lisa Dianne Feldkamp, Laura A. Ferguson, Matthew C. Fieleke, Jennifer Irene Elaine Finley, Julia Marie Gallagher, Krista L. Garcia, Elizabeth Ann Gentry, Katie Gilbert, Angela R. Gober, Reneé Marie Gordon, Laura Christina Groening, Joel D. Haak, Jill Diane Hamilton, Jessica Hoelzer, Kiley C. Hughes, Christine M. Janson, Sarah Elizabeth Jones, Amanda Christine Keener, Sofia Kerbawy, Marcia M. Kottemann, Nicholas Thomas Kremer, Aimée Kathryn Lichtenberg, Matthew Christian Lineberry, James D. Lloyd, Sarah Beth Lockenvitz, Courtney Elizabeth Mayton, Matthew Stephen Kudakwashe McDuff, Evan Durk Merrell, Evan DeWitt Montgomery, Lukin T. Murphy, Elizabeth N. Niewoehner, Molly Anne Pfeiffer, Cassandra Payne Phillips, Sarah Elizabeth Quick, Sasha Frances Rassi, Laura E. Reber, Lauren Ann Schulte, Lisa Marie Sieren, Jennifer R. Siron, Alison Katharine Spinden, Jason Stanghelle, Sarah Elizabeth Starnes, Stephanie Jean Sullivan, Ashley Taylor, Mackenzie Lorraine Taylor, Jonathan Bradford Terry, Molly J. Thacker, Mark William Vogel, Jonathan Edward Waits, Nathan Alexander Wales, Ryan L. Walsh, Catherine E. Webster and Janice Irene Weddle.