Proceeds from Roktoberfest Benefit Investing In Students Fund
The Investing in Students fund at Truman has received a $3,500 donation courtesy of Roktoberfest, a fundraising event organized by Sigma Tau Gamma fraternity, in association with Blue Key, Cardinal Key and Tau Lambda Sigma.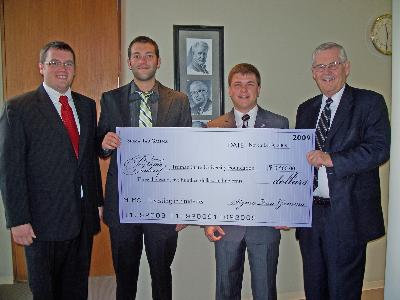 Members of Sigma Tau Gamma present President Darrell W. Krueger with a check for $3,500 for the Investing in Students fund. Pictured, from left: Ryan Cochran, Sigma Tau Gamma president; Kyle Betts; Andrew Bedwell; and University President Darrell W. Krueger.
Approximately 350 people attended the second annual event, which took place Oct. 23 at the Journal Printing Building in downtown Kirksville, courtesy of the Wooden Nickel. Event organizers announced the philanthropic effort raised $7,000, and proceeds were divided equally between Truman's Investing in Students fund and the National Fibromyalgia Association.
The University created the Investing in Students fund earlier this year in response to the growing financial burden placed on students and their families.
The fund was established with a $30,000 gift from President Darrell W. Krueger and his wife Nancy.
University constituents, including faculty, staff, alumni, friends and corporations, have also provided support for the initiative. Gift commitments to the fund now total more than $200,000.