Study Abroad: Matt Johnson on Australia
What an experience. What a country. It is hard to even find the words to describe last semester, which I spent studying abroad in North Queensland, Australia at James Cook University.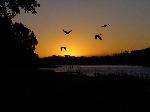 I began the long string of flights at the end of July, and I can tell you that the combined 26 hours of travel was absolutely exhausting. It was very exciting to finally leave, but also very nerve-wracking. When I finally arrived into Cairns, I stepped into a completely different world. It was a sunny day, with 80 degree weather and clear blue skies. It was a world of "G'day, mate," beaches, mountains, and gorgeous weather. Immediately I recognized that it was a world very different from what I was used to. True, they speak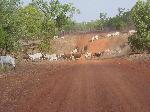 English in Australia, but it is very different from our American English! I remember my first day there, exhausted and overwhelmed, standing in a store trying to buy a phone card... quite unsuccessfully, I might add. I didn't have the correct change for the machine, and my tired brain couldn't understand the clerk at the desk through her thick accent and use of Australian slang. At the end of the semester, I remember thinking, "what a long way I've come towards understanding their slang and their culture!"
I decided to study abroad at James Cook University in Townsville, Australia for several reasons. First, it was located in an English-speaking country, which was attractive to me, due to the fact that my foreign language skills are very limited. I wanted to be able to integrate myself into a different culture as much as possible, and felt that I could do that best in a country where I could speak the language and interact with the people. As a biology major, I wanted to go to a school where I could study biology, and take different subjects than I am able to in Kirksville. North Queensland seemed like the perfect location: surrounded by the Great Barrier Reef on one side, and the rainforest on the other. The school also offered biology classes with a lot of field study time, as well as frequent field trips. I was not let down! As far as a place to study biology goes, it doesn't get much better!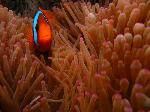 It was great living in Townsville. It is a city with a population of about 160,000, but it is off the tourist path. This was nice because you were treated as a resident, rather than the locals making the quick assumption that you were another American tourist, as I encountered in some of the larger cities. Living in Australia, you learn to appreciate a slower pace of life. Nothing is a rush or an emergency, and "laid back" is the only way to be. Once, I even had a bus driver stop in the middle of a route to take a cigarette break! Different, yes, but very nice once you adjust to it! I still cannot get over how nice the weather was there. I can only remember a few cloudy days, and all of the other days were ideal—breezy and sunny with a temperature of about 80 degrees. The temperature was perfect during the daytime, and it cooled off nicely at night. It started to get a bit warmer towards the end of the semester, which only made it harder to come home to the cold and snow.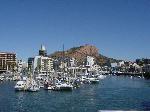 Townsville had a nice beach and great bar (Flinders Street E.) and restaurant (Palmer St.) districts. The best part was Magnetic Island though – a quick 20 minute ferry ride across the bay, and you could have coconut trees, hiking trails, wild koalas, and beaches all to yourself! Also off the coast of Townsville was the excellent S.S. Yongala, a passenger ship that sunk in a storm in the early 1900s. This is purported by many in the diving community to be the best wreck dive in the world!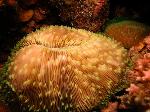 I took Introduction to Marine Biology, Ecology, Introduction to Information Technology, Linking Indigenous (an Aboriginal Culture class), and Underwater Photography of the Great Barrier Reef (which ran for 3 weeks on the Cairns campus after the regular semester). It was not as much science as I had planned on taking, but I loved all of my classes. Coursework was very different in Australia. Many of the classes did not have assigned textbooks, and about 60-70% of the semester grade was based on the final exam (which took a minimum of three hours!). When you did not understand something that was taught in the lecture, you were expected to go to the library and read up on the subject. Since there was no textbook, it was like doing constant research on the subject that you were learning. It was interesting to do learning for the sake of learning about a subject, rather than learning information for a weekly exam.
Going with Australearn was a nice benefit. Australearn is a non-profit organization that assists American students studying abroad in Australia and New Zealand. They helped do a lot of the paperwork and arrangements for you, which was nice. I had trouble with getting my student visa approved, but Australearn worked on it with the department of immigration, and took care of the problem for me. It was expensive to go through Australearn, but the orientation they did for us in Cairns made the money worth it. We went to an Aboriginal Culture Park to learn about the culture and customs, and spent the next day S.C.U.B.A. diving on the Great Barrier Reef. It was incredible! We then spent a day at a tropical zoo seeing and holding all kinds of Aussie animals. It was neat to see them in the zoo, but it was even more fun to see all of them in the wild around the JCU campus! I saw Parrots, Lorikeets, Dingoes, Kangaroos, Wallabies, and Kookaburras, among other things.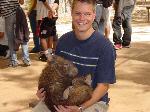 I learned a lot in Australia, about another culture, about some interesting subjects, and about myself. Yet I had a lot of fun too! Travel was excellent, and relatively inexpensive if you got tickets with a discount airline like Virgin Blue. I got to travel to a lot of places, and feel like I got to see a lot of the country in a relatively short time: Sydney, the Gold Coast, sailing in the Whitsunday Islands, the Outback, and Cairns. If it weren't for classes, I would have done a lot more traveling! It was definitely a once in a lifetime experience, and I wouldn't trade it for anything!
Matt Johnson is a Junior Biology Pre-Med major from St. Louis, Missouri (Parkway North)