Explorer Visits Truman for Lyceum Event
Jean-Michel Cousteau, explorer, environmentalist, educator and film producer, will share his experiences during the second Lyceum event of the semester at 7:30 p.m. Oct. 21 in Baldwin Auditorium.


For more than four decades, Cousteau has used his vast experience to communicate his love and concern for the earth and its water with people of all nations and generations.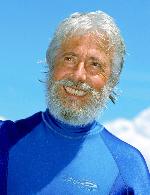 Jean-Michel Cousteau
Cousteau began exploring the ocean realm at the age of seven when his father "threw him overboard" with newly invented Scuba gear on his back. The son of ocean explorer Jacques Cousteau, he spent much of his life with his family exploring the world's oceans. After his mother's death in 1990 and his father's death in 1997, Cousteau founded Ocean Futures Society. He formed the non-profit marine conservation and education organization in 1999 in order to carry on the pioneering work of his family. Cousteau serves as president of the society.
Cousteau is an impassioned spokesman and diplomat for the environment, and he reaches out to the public through a variety of media. He has produced more than 70 films and has received numerous awards: the Emmy, the Peabody Award, the 7 d'Or (the French equivalent of the Emmy) and the Cable ACE Award.
In addition to his awards for film, his book, "Jean-Michel Cousteau's America's Underwater Treasures," has received two prestigious awards in the independent publishing world, the 2008 Benjamin Franklin Bill Fisher Award for Best First Book (Non-Fiction) and the 2008 IPPY Gold Medal Award for best book in the environment/ecology/nature category.
Acting on a childhood dream to build cities under the sea, Cousteau pursued a degree in architecture and graduated from the Paris School of Architecture in 1964. Recently, he has worked with the Jean-Michel Cousteau Fiji Islands Resort, designed to demonstrate an environmentally responsible and culturally appropriate ocean-oriented resort.
Tickets for Cousteau's presentation go on sale Oct. 14. Students can pick up their free ticket by presenting a Truman ID at the Student Activities Board Box Office, located in the lower level of the Student Union Building. Faculty and staff may receive their free tickets by showing their Truman ID at the Information Center in the Student Union Building. General admission tickets cost $7 for adults and $4 for those 18 and under and may be purchased downtown at Edna Campbell's or at the Truman Cashier's Window in McClain Hall.