Pickler Memorial Library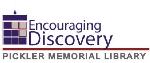 New Databases


General OneFile
. General interest news and periodical articles on a wide range of topics, including business, computers, current events, economics, education, environmental issues, health care, hobbies, humanities, law, literature, art, politics, science, social science, sports and technology. Millions of full-text articles, many with images. Updated daily.
Health Reference Center Academic
. The full text of nursing, allied health and medical journals; consumer health magazines; newsletters topical overviews; and reference books. More than 2,000 full-text sources and hundreds of videos demonstrating medical procedures and live surgeries.
Informe
. Created exclusively for Spanish-speaking users, this reference tool provides full-text of popular Hispanic magazines - not just translations.

InfoTrac Custom Newspapers
. Coverage of more than 150 cover-to-cover titles and selected full-text news and business coverage from another 280 sources. Search by title, headline, date, newspaper section or other fields.