Pickler Memorial Library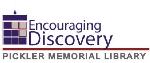 New Databases


Discovering Collection
. A collection of essays, critical analyses, biographical information, primary sources and multimedia elements in the core subject areas of history, literature, biography, science and social studies.
Health & Wellness Resource Center with Alternative Health
. Specialized reference tool offering a vast collection of medical information including hundreds of health/medical journals, newsletters, thousands of pamphlets and hundreds of streaming videos from medical experts. Provides access to many encyclopedias including Clinical Reference Systems, PDR guides, Medical and Health Information Directory, Gale Encyclopedia of Childhood & Adolescence and much more. Includes Alternative Health module, which provides a rich collection of books, journals, magazines on alternative and complimentary therapies.