Pickler Memorial Library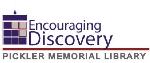 The Library Now Has Nine New Databases

Academic OneFile
. A source for peer-reviewed, full-text articles from the world's leading journals and reference sources, with extensive coverage of the physical sciences, technology, medicine, social sciences, the arts, theology, literature and other subjects. Millions of articles are available in both PDF and HTML full-text. Includes full-text coverage of the New York Times back to 1995. Updated daily.
Business & Company Resource Center
. A source for business, company and industry information. Contains company profiles, periodical articles, financial data, market research, and stock and financial information.
Discovering Collection
. A collection of essays, critical analyses, biographical information, primary sources and multimedia elements in the core subject areas of history, literature, biography, science and social studies.
General OneFile
. General interest news and periodical articles on a wide range of topics, including business, computers, current events, economics, education, environmental issues, health care, hobbies, humanities, law, literature, art, politics, science, social science, sports and technology. Millions of full-text articles, many with images. Updated daily.

Health & Wellness Resource Center with Alternative Health
. Specialized reference tool offering a vast collection of medical information including hundreds of health/medical journals, newsletters, thousands of pamphlets and hundreds of streaming videos from medical experts. Provides access to many encyclopedias including Clinical Reference Systems, PDR guides, Medical and Health Information Directory, Gale Encyclopedia of Childhood & Adolescence and much more. Includes Alternative Health module, which provides a rich collection of books, journals, magazines on alternative and complimentary therapies.
Health Reference Center Academic
. The full text of nursing, allied health and medical journals; consumer health magazines; newsletters topical overviews; and reference books. More than 2,000 full-text sources and hundreds of videos demonstrating medical procedures and live surgeries.
Informe
. Created exclusively for Spanish-speaking users, this reference tool provides full-text of popular Hispanic magazines - not just translations.

InfoTrac Custom Newspapers
. Coverage of more than 150 cover-to-cover titles and selected full-text news and business coverage from another 280 sources. Search by title, headline, date, newspaper section or other fields.
Small Business Resource Center
. Information on how to start, finance or manage your small business. Resources include sample business plans, how to guides, articles and websites.