Dance Receives Walter Byers Postgraduate Scholarship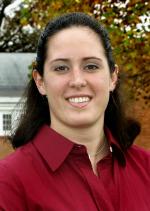 The NCAA announced last week that Sarah Dance, senior exercise science major from Lincoln, Neb., has been selected as the female recipient of this year's Walter Byers Postgraduate Scholarship. The award is a $21,500 scholarship that can be renewed for a second year.
This prestigious distinction goes to one female and one male student-athlete within the entire NCAA.
Dance was the only Division II finalist among the six candidates. She recently competed at her final NCAA Division II National Championship meet in March with the Bulldogs. As a member of the women's swim team, Dance helped guide the Truman team to their fifth consecutive national championship, tying Oakland University (Mich.) for most consecutive swimming national titles.
Dance has excelled as a student-athlete at Truman. She is a multiple time All-American in the pool and has earned several academic awards over the past four years. As a junior, Dance received first-team academic All-American honors from CoSIDA and was named an MIAA presidential scholar for the third straight year.
Nominees for the Walter Byers Postgraduate Scholarship must be exceptional student-athletes who combine the best elements of mind and body to achieve national distinction for their achievements, and promise to be future leaders in their chosen field of career service.
The scholarship was established in 1988, as a means of recognizing the contributions of the former executive director of the NCAA. The award is one of the largest given by the NCAA, whose Postgraduate Scholarship Program provides numerous annual awards with smaller stipends.
Postgraduate plans for Dance include attending the University of Nebraska Medical School in Omaha.