McGahan Fund Sends Students to Conference
Three Truman students were recently able to attend the National Student Nurses' Association 57th Annual Convention thanks to the help of a former University professor.
Kirsten Kimrey, Loren Lally and Ashley Swain participated in the NSNA conference in Nashville, Tenn., April 15-19. Their trip was made possible by $500 from the McGahan Family Nursing fund.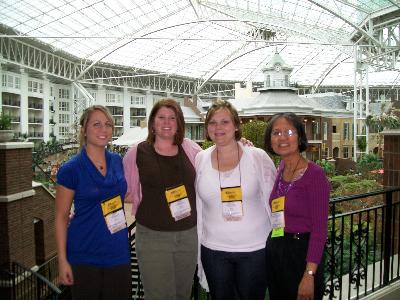 Pictured from left, Ashley Swain, Loren Lally, Kristin Kimrey and Kit Hadwiger, faculty advisor NSA.
Sharon McGahan, assistant professor emerita of nursing, established the fund in 2006 in honor of her family and in support of the Nursing Students Association. McGahan graduated from Truman in 1986 with an education specialist degree and had three siblings who also graduated from the University. She became a faculty member in the nursing department in 1977 and served as an advisor for the Nursing Students Association for many years.