Foundation Study Abroad Scholarships Awarded
The Truman State University Foundation awards 10 $1,500 scholarships annually to students who are participating in a summer, faculty-led study abroad experience.
The students who have been selected as recipients in 2009 will study abroad in various programs, including Bethsaida Archeological Dig and Israel Study tour, Costa Rica Summer Program, Democracy and Human Rights in South Africa, Europe in Transition, Salamanca Program, and Study Abroad in the Philippines.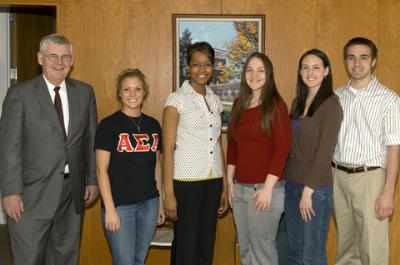 University President Darrell Krueger (left), stands with five of the 10 students who received the Foundation Study Abroad scholarships (pictured from left to right) Chelsea Verslues, Javae Nelson, Jessamyn Phillips, Lauren Greenspan and Nicholas Wilson. Not pictured are recipients Hannah Dumey, Abigail Helmick, Jennifer Jackson, Ashley Kiefer and Kelsey Provance.
More than $615,000 in scholarships has been awarded from the Foundation this year. These scholarships are made possible through generous contributions from alumni, parents and friends of the University. For more information contact the Office of Advancement at 785.4133.