The Lyceum Series Concludes with the Duke Ellington Orchestra
T
he final presentation of the 2008-2009 Lyceum series will be the Duke Ellington Orchestra, which is set to perform at 7:30 p.m. March 17 in the Baldwin Hall Auditorium.
The music of jazz legend Duke Ellington lives on, thanks to the efforts of his grandson. Paul Mercer Ellington, conductor and musical director of the Duke Ellington Orchestra, is carrying on the musical traditions started by his grandfather almost 90 years ago.
Duke Ellington composed more than 2,000 pieces of music, including jazz classics "Take the 'A' Train," and "It Don't Mean a Thing (If It Ain't Got that Swing)."
Throughout his extensive career, Ellington's bands led the forefront of music, often performing with greats such as Billy Strayhorn, Miles Davis, Ella Fitzgerald and Tony Bennett.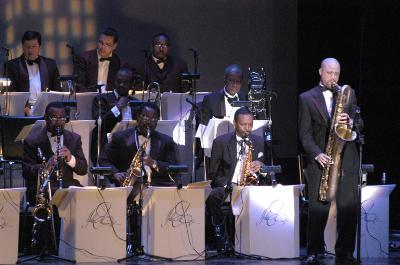 Duke Ellington Orchestra
In his lifetime, Ellington led various bands, from his first, assembled just after World War I, until his death in 1974. At that time, his son, Mercer Ellington, who had been serving as the group's business manager and trumpet player, took over his father's role. Mercer Ellington encouraged his son, Paul Mercer Ellington, to eventually take over the band, which he did in the late 1990s. A talented piano player in his own right, Paul Mercer Ellington currently serves as the band's conductor and musical director.
The Duke Ellington Orchestra has performed throughout the world, including New York, Cairo, New Delhi, London, Los Angeles and Chicago.
Lyceum tickets are free for all Truman students, faculty and staff. Due to the midterm break holiday, students may pick up their tickets from 9:30 a.m.-3:30 p.m. Monday through Friday at the Student Activities Board Office in the Student Union Building, starting March 3. Faculty and staff may pick up their tickets from 8:30 a.m.-8 p.m. Monday through Friday at the information desk in the Student Union Building. General admission tickets will be on sale at Edna Campbell's and the Truman Business Office, McClain Hall 105, starting March 10 for the costs of $7 for adults and $4 for those 18 and under.
For more information go online to
http://lyceum.truman.edu
.