Murphey Receives First Interdisciplinary Studies Award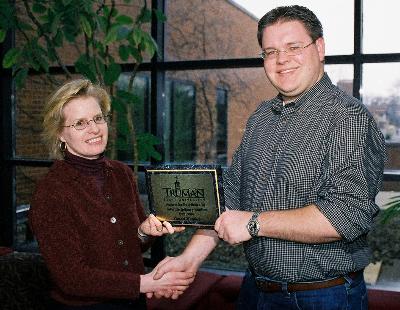 Marijke Breuning, associate professor of political science, presents Sam Murphey, junior communication and English double major from Rolla, Mo., with the first Award for Excellence in Interdisciplinary Studies.
He was given the award for "Critical Engagement in North Korea: A Strategy for Ending Nuclear Proliferation" written under the direction of Breuning during the fall semester 2004. Papers showing exceptionally sophisticated interdisciplinary inquiry were nominated by instructors, and then blind-reviewed by a committee of JINS faculty.