Ribbon-Cutting Ceremony to Open New Innovation Lab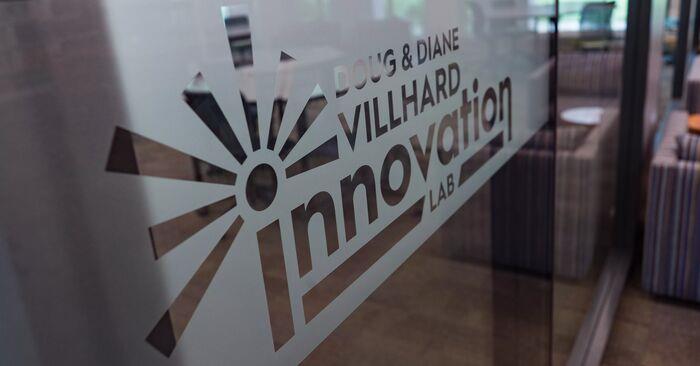 A unique campus resource will make its debut with a ribbon-cutting ceremony at 2 p.m. Aug. 30 in Pickler Memorial Library.
The Doug and Diane Villhard Innovation Lab is a dedicated space created to help all members of campus reach their academic goals, explore creative pursuits and work on passion projects.
Located in the northeast corner on the first floor of the library, this newly renovated space features: flexible furniture that can be reconfigured for groups of various sizes; collaborative writing surfaces; and networked computers with creative software. A design lab in the space will provide hands-on experiences in problem solving and critical thinking, which current and prospective students will find essential for class projects and in future work environments. The design lab will include a Lego wall and offer materials that can be easily disassembled, altered, expanded or even recycled with minimal expense and effort.
Another section of the lab will house a multimedia studio. This space will provide assistance and resources for students who want to take innovative projects to the next level. It will also be used for training to equip students to use a variety of advanced technologies and digital resources. The ability to produce podcasts will be a feature of the lab, and video conferencing equipment will allow students an opportunity to connect and collaborate with remote partners.
The naming of this lab was funded through a generous six-figure gift from alumni Doug ('94) and Diane ('95) Villhard. The Villhards have a long history of supporting entrepreneurship and innovation at Truman. For the past eight years they have supported a variety of efforts, including the annual Bulldog B.I.T.E. Pitch competition.
As a campus-wide resource the space will allow the University to successfully facilitate collaboration and cross-disciplinary learning. It also will create a pathway for instructors, from all disciplines, to direct class efforts to these spaces and conduct information/exploration sessions.
All members of the Truman community are invited to attend the ribbon-cutting ceremony, which will be followed by a reception and opportunity for attendees to visit interactive stations in the lab.