Clapp Award Helps Educators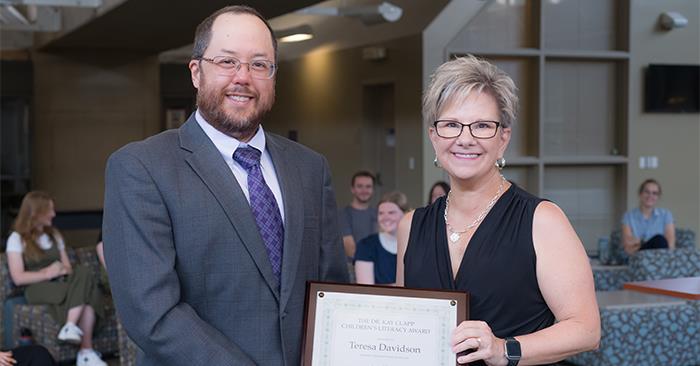 John Jones, chair of Truman's Education Department, presents Teresa Davidson with the Kay Clapp Children's Literacy Award.
This year's recipients for the Dr. Kay Clapp Children's Literacy Award are Jacquelyn Wheeler and Teresa Davidson.
Wheeler recently earned her MAE with an emphasis in elementary education at Truman. She is a fourth grade teacher at Bartley Elementary in the Fulton School District in Fulton, Missouri. Davidson is a reading specialist at the Kirksville Primary School.
Clapp taught in Truman's Department of Education and is a powerful proponent of literacy and children's literature. The Dr. Kay Clapp Children's Literacy Award was endowed in 2006 in her honor. Hundreds of students and practicing teachers have been influenced by her dedication and careful mentoring. The fund provides $500 each to a Master of Arts in Education student and a current teacher to purchase children's literature for their professional practices.
The awards were presented June 21 during a ceremony in Violette Hall.