Kohlenberg Lyceum Series Presents Capitol Steps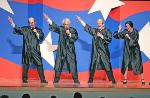 Capitol Steps

The political music revue, Capitol Steps, will be performing in Baldwin Auditorium at 7:30 p.m. Sept. 22 as the first in the series of Kohlenberg Lyceum events to take place this year. Capitol Steps is a Washington-based ensemble of Congressional staffers turned songwriters. They will perform a musical satire designed to keep the audience laughing about events and personalities on Capitol Hill, in the Oval Office, and other centers of power.
Produced and co-written by Elaine Newport, their performance features 20 "stinging" parodies, including "Wouldn't it be Hillary," "The Impossible Dean," "Cheney and the Jets," "Duke of Oil" and "Kerry Baby."
Since their inception in 1981, the Capitol Steps have recorded 28 albums, including their latest, "Campaign and Suffering." They've been featured on NBC, CBS, ABC and PBS.
Although not all of the current members of the Steps are former Capitol Hill staffers, the performers have collectively worked in a total of 18 Congressional offices and represent 62 years of House and Senate staff experience.
Lyceum tickets are free for all Truman students, faculty and staff. Students may pick up their tickets from 9:30 a.m.-3:30 p.m. Monday through Friday at the Student Activities Board office in the Student Union Building. Faculty and staff may pick up their tickets from 10:30 a.m.-8 p.m. Monday through Friday at the information desk in the Student Union Building.
General admission tickets will be on sale at Edna Campbell's and the Truman State University Business Office, McClain Hall 105, for the costs of $7 for adults and $4 for those 18 and under. For more information go online to
http://lyceum.truman.edu
.