Student Union Building To Celebrate Completion With Open House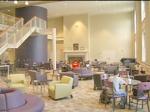 The former "Quiet Lounge," located on the second floor of the Student Union Building, will be renamed now that the area has been renovated. Student suggestions will be accepted until Sept. 5. The final five names will be voted on during the open house, and the winning student will receive a $50 gift card.
The Student Union Building will host an open house from 3-10 p.m. Sept. 9 to celebrate its early completion. This event will showcase the Student Union's new facilities, as well as highlight many of the student service offices within the building.
The open house will feature several special events, including free pizza and soda, a nicknaming contest, live music and door prize raffles. The pizza and soda will be available from 7-9 p.m. in the TV lounge located on the first floor.
Students can enter the contest to rename the former "Quiet Lounge" until Sept. 5 by visiting
http://sub.truman.edu
. The Student Advisory Board will narrow the names down to five finalists, and students can vote for their choice during the open house from 3-8 p.m., with the announcement of the new name and contest winner at 8:30 p.m. The winning student will receive a $50 gift card to the Truman State University Bookstore.
Live music will begin in the Down Under (first floor) at 7 p.m. Door prize raffles will be in the main Lounge beginning at 5 p.m.
Many of the student service office staff will be available for students with questions about the new facilities and services offered during the open house. These new offices include the new Information Center and Main Street Market on the main causeway; Student ID, Student Union Administrative and Food Service Offices in Suite 2000; Student Affairs Office on the third floor and Center for Student Involvement on the first floor.
Faculty, staff and students are all welcome to come. Questions about the event should be directed to Damon Ferlazzo, programs coordinator for the Student Union at
damonf@truman.edu
or 785.4186.