Phi Beta Lambda Members Recognized at National Leadership Conference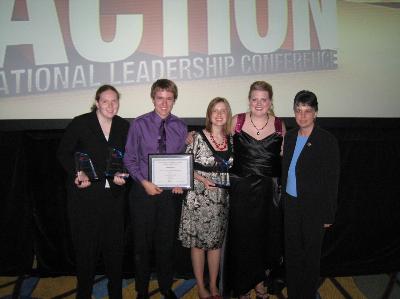 From left to right: Amy Rowden, Jonathan Arnold, Marissa Chaplin, Alicia Stewart and Cathy Poyner
Phi Beta Lambda members and advisers from Truman State University participated in the Phi Beta Lambda National Leadership Conference June 21-24 in Atlanta. The conference theme was "Leadership in Action."
The conference featured competitive events for individuals and teams, various workshops for training, and election of officers for the next year. Alicia Stewart, a history major from Clinton, Mo., served as National North Central Region Vice President for the 2007-2008 year. Cathy Poyner, instructor in business administration, was recognized as Missouri Outstanding Local Chapter Adviser. The Truman State University Chapter also received the Gold Seal Award of Merit.
Several Truman students were recognized at the Awards Program.
Amy Rowden, an economics and business administration double major from Dixon, Mo., received first place for Financial Analysis & Decision Making and International Business.
Jonathan Arnold, a pre-business administration major from Gallatin, Mo.; received first place for Employee Training & Development.
Marissa Chaplin, an exercise science and pre-business administration double major from Warrensburg, Mo., received fifth place for Sports Management & Marketing.
Stewart, National North Central Region vice president, was named as one of the people in Who's Who in Phi Beta Lambda.
Phi Beta Lambda is an educational association of postsecondary student members preparing for careers in business. There are more than 11,000 active members in the United States.