Bulldog Football Program Receives $50,000 Gift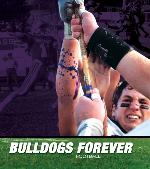 Mark and Jill (Matthys) Schell of Lohman, Mo., recently made a cash gift of $50,000 in support of Bulldogs Forever – A Campaign for Bulldog Football. Mark was a member of the Bulldog football program while at Truman. He played tight end for the team and was a regular starter at that position. He is currently a member of the campaign's volunteer steering committee.
Mark graduated from Truman in 1997 with a Bachelor of Science in business administration and is currently the executive vice president for production at Diamond Pet Foods, Inc. Jill graduated from Truman in 1998 with a Bachelor of Science in exercise science and is currently a stay-at-home mother who enjoys taking care of their two boys, Sam and Charlie.
The football renovation campaign is designed to raise private gift support to assist in the renovation and enhancement of the Stokes Stadium facilities. The project includes installation of lighting and synthetic turf, renovation of the kennels and the construction of visiting bleachers.
This significant gift from Mark and Jill Schell increases the lead commitment total for the campaign to approximately $110,000. Private support from this campaign, coupled with a portion of the resources from the recently passed student athletic fee, will assist the University in returning Stokes Stadium to a first-class facility.