Campus Hosts New Mid-Scream Series Oct. 11-12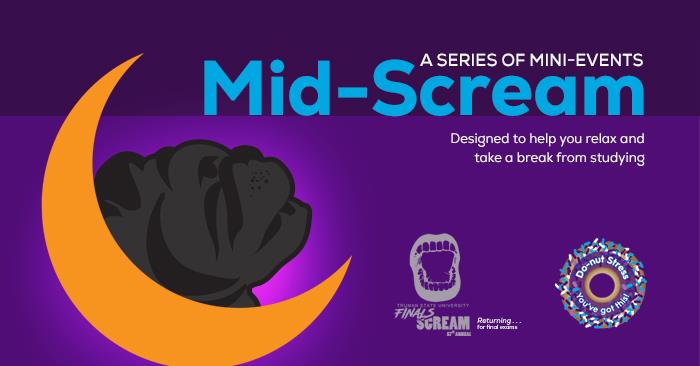 Mid-Scream
, a series of mini events designed to help students relax and take a break from studying, will take place Oct. 11-12.
The School of Business will provide coloring books, colored pencils, crayons and markers from 8 a.m.-5 p.m. Oct. 11-12 outside of Violette Hall 2420 and in the upper Violette Hall commons. Students can take their artwork or leave it for display. From 11:30 a.m.- 12:30 p.m. Oct. 11-12 Residence Life will have a goodie-bag giveaway. The Residence Life tent will be located at Ryle and Centennial courtyards. Anyone who can show they follow the
Residence Life Instagram
will receive a reusable bag full of swag.
From 2-4 p.m. Oct. 11 students can stop by the quad to grab a soda and make their very own stress ball. Students can attend Popcorn with the President from 6-7 p.m. in the main lounge of Centennial Hall. There students can take a study break with President Thomas to enjoy her favorite snacks of sno-caps and parmesan cheese popcorn. Then from 7-8 p.m. students will have the opportunity to make chocolate covered pretzel sticks in BNB Hall 1226. All supplies are provided and it should only take 15 minutes to make five pretzel sticks.
The School of Science and Mathematics will host washer toss and ladder golf for students to play from 3-4 p.m. Oct. 12 on the east side of Magruder Hall. Anyone interested in joining Provost Gooch for a one-mile loop around campus can meet at 5:30 p.m. at the bulldog statue. From 6-7 p.m. Oct. 12 President Thomas will be in the north kitchen and lounge of Ryle Hall for another study break of popcorn and sno-caps.
There were also events offered Oct. 10. Students were able to make chocolate covered pretzel sticks, run a mile loop with Provost Gooch and take a night tour around campus.